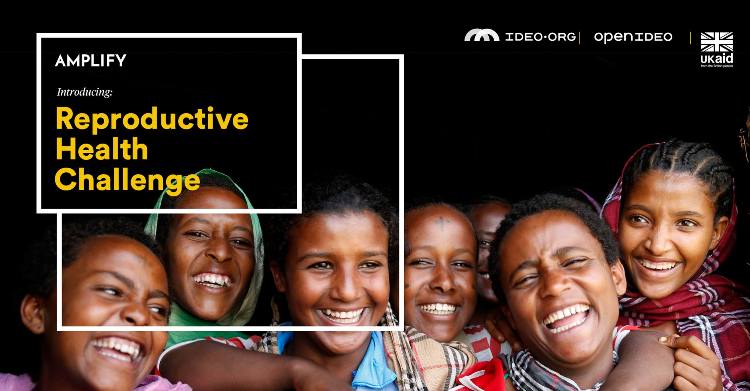 Submit your ideas: OpenIDEO Amplify Reproductive Health Challenge 2017
Deadline: September 17, 2017
OpenIDEO is now accepting entries for the 2017 Amplify Reproductive Health Challenge. Amplify is a series of innovation challenges bringing increased collaboration and a human-centered design approach to early stage solutions addressing some of the world's toughest problems. Amplify is a joint initiative of OpenIDEO, IDEO.org and the UK Department for International Development (DFID). It is made possible through DFID funding.
How might we provide comprehensive sexual and reproductive health services to girls and women affected by conflict or disaster? Submit your ideas for the Amplify Reproductive Health Challenge. The Challenge is looking for a wide range of solutions focused on:
Adolescents' rights and health
Health services resilience and preparedness
Protecting the most vulnerable
Last mile delivery of commodities
Amplify is an ongoing OpenIDEO program that focuses on improving the lives of the billion people living in extreme poverty around the world. OpenIDEO is an open innovation platform committed to solving big challenges for social good.
Prize
At least five winning ideas will receive:

Training on the theory and practice of human-centered design alongside the winning cohort at a Design Bootcamp;
$10,000 USD to begin prototyping (test) their ideas for 3 months;
A share of $500,000 in additional funding, typically between $50,000 – $100,000 USD;
18 months of technical assistance / design support from IDEO.org designers.
Eligibility
The Challenge is open to ideas that
Are new or in early stages but related to core competencies of your organization or group.
Will be implemented by an organization or group that is registered in some way in at least one country.
Have at least one year of experience working in the country in which the idea is to be implemented.
Have at least one year of experience working in the sector within which the idea is focused.
Will be implemented in one or more of the 32 eligible countries: Afghanistan, Bangladesh, Burma, Democratic Republic of Congo, Ethiopia, India, Iraq, Ghana, Jordan, Kenya, Kyrgyzstan, Lebanon, Liberia, Malawi, Mozambique, Nepal, Nigeria, Occupied Palestinian Territories, Pakistan, Rwanda, Sierra Leone, Somalia, South Africa, South Sudan, Sudan, Syria, Tajikistan, Tanzania, Uganda, Yemen, Zambia, Zimbabwe.
Application
To participate, create an account, log in, and fill out basic information about your Idea. Begin Now!
Application closes by September 17, 2017 at 11:30PM PT!
If you have questions or feedback about accessibility, need assistance understanding the Challenge process, or posting your idea to the platform, feel free to get in touch with organizers at [email protected]
Application Timeline
Ideas Phase: August 21 – September 17
Review Phase: September 18 – October 1
Feedback Phase: October 2 – October 15
Refinement Phase: October 16 – October 26
Final Review: October 27 – December 14
Winning Ideas: December 15
For more information, visit Amplify Reproductive Health Challenge.