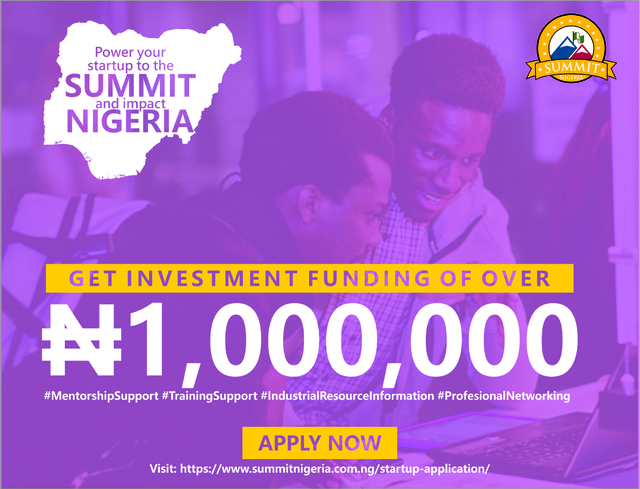 The Summit Nigeria Startup Investment Fund 2017 (Win up to N1,000,000)
Deadline: September 30, 2017
Are you an entrepreneur, with a new or an already existing startup? The Summit Nigeria invites you to apply for the Summit Nigeria Startup Investment Fund 2017. In a bid to contribute to support entrepreneurship, and enhance Nigeria's economy, Summit Nigeria, Nigeria's dynamic leadership, financial and entrepreneurship program seeks to contribute to the acceleration of start-ups development; and support budding aspiring entrepreneurs through training, mentorship, professional network connections and seed investment funding.
Benefits and Prizes
Phase 1: High commended start-up initiatives will be featured online for the open voting process with a minimum of 1500 (one thousand five hundred voting points) to be voted for the first two hundred top best start-ups initiatives to be selected.
Phase 2: Semi Finalists: receive (200 top tier applications under phase 1) in addition of the above:
Detailed feedback from the selection committee
Participation in an online Summit Nigeria Startup Entrepreneurship Network Community for continuous development on startup project
Access to exclusive professional networking opportunities
Access to exclusive professional mentorships
Access to industrial resource information
Access to investor's for investment opportunities
Phase 3: Finalists: receive (top ten (10) tier retained applications under phase 2): In addition to the above:
Exclusive Opportunity to pitch their start-ups projects during the Summit Nigeria Grand Finale
Finalists will be featured through Summit Nigeria media activities
Attend the Summit Nigeria executive start-ups bootcamp
Winners receive: All of the above plus:
1st price: One million Naira seed investment funding
2nd price: Three hundred thousand Naira seed investment funding
3rd price: Two hundred thousand Naira seed investment funding
A Lifetime Summit Fellowship
A seat at the Summit Startup investment forum
Eligibility
This funding programme is designed to recognise and support outstanding entrepreneurship start-ups that have the following characteristics:
Have a proven pilot startup beyond concept stage, tested, or small-scale
Startup resident or to be located in Nigeria
Start-ups developed by youth from age 16-35
Have the potential to scale and contribute to the economic prosperity of Nigeria
Start-ups built on a sound and viable business model with investment potentials and financial sustainability plan
Start-ups with economic and social impact
Start-ups that are scalable with potential for growth
Only one nominated person from the startup or the partnership is able to join the programme. This is not limited to a wide swath of characteristics such as religion, gender, economic status and special abilities.
Eligibility
All Applications must be submitted ONLINE through the Application Portal.
The application form must be completed by answering a series of compulsory question. For further questions and enquiries on the application contact: [email protected].
For more information, visit Summit Nigeria Startup Investment Fund.