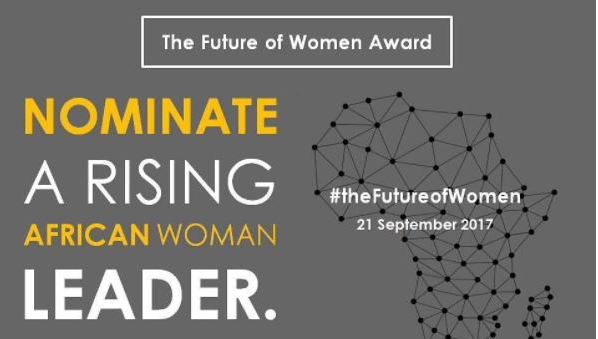 Nominate a Rising African Leader for the Future of Women Award 2017
Deadline: September 15, 2017
Nominate a rising woman leader doing incredible work in Africa for the Future of Women Award 2017. The Award will recognize three rising African women leaders in the areas of Technology, Social Impact and Creative Entrepreneurship. The Award is about inspiring, engaging, and recognizing rising women leaders across the continent of Africa. Award winners will be announced via Facebook Live from the Future of Women event in New York on September 21, 2017 in front of a live audience of African First Ladies and Women Leaders.
The award is supported by Global First Ladies Alliance and other partners. The Global First Ladies Alliance supports first ladies, individually and collectively, in their efforts to advance positive change in their communities and around the world. Since 2008, the Global First Ladies Alliance team has directly advised 42 First Ladies and their offices on programmatic and policy initiatives, and helped facilitate productive collaborations between First Ladies and nearly 30 global institutions. They also liaise with Presidents' offices, ministries and other cabinet officials as their agendas align.
Eligibility
Open to rising African women leaders of all ages, working in technology, social impact, or creative entrepreneurship; doing impactful work in Africa;
Nominees should be primarily based on the continent.
Selection Criteria
Award selection will be based upon the following criteria:
Innovation
Creativity
Sustainability
Long term impact of the work on the future of women
Public support on Instagram + Facebook via likes, shares, and comments
How this award could benefit the work of the nominee
Nominations will be judged by a committee of four, comprised of one representative from Global First Ladies Alliance, Facebook, MAC AIDS Fund and OkayAfrica.
Application
Nominate yourself or someone else in two simple steps:

Post your nomination on Instagram or Facebook:
Fill out the nomination form

If posting on Facebook or Instagram:
Timeline
August 30 – September 15, 2017: Nomination Period
Award Selection: September 16 – 20, 2017
September 21: Announcement
For more information, visit Future of Women Award.