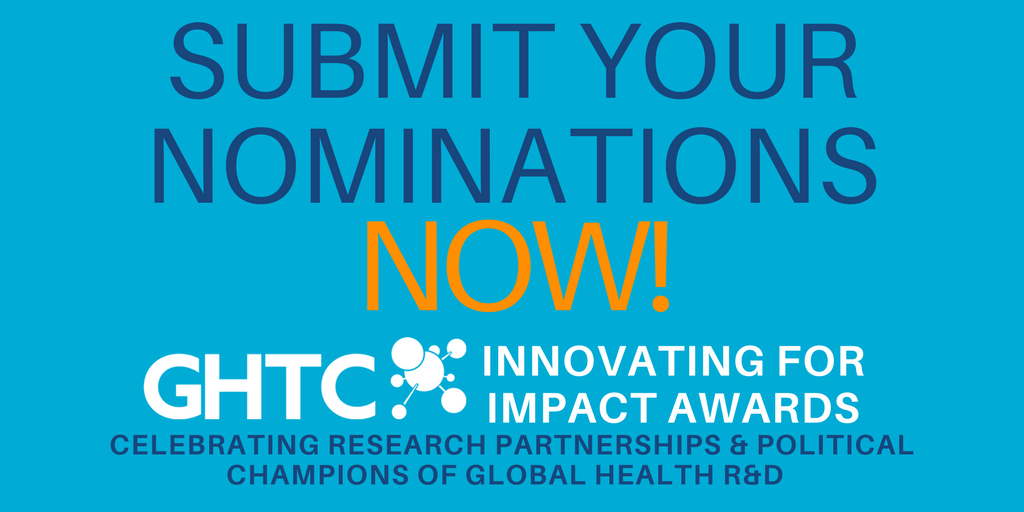 Call for Nomination: GHTC Innovating for Impact Awards 2017
Deadline: September 20, 2017
GHTC has launched a call for nominations for Innovating for Impact Awards 2017. The Global Health Technologies Coalition's (GHTC) Innovating for Impact Awards will celebrate the research partnerships and political champions that help transform breakthrough scientific research into lifesaving drugs, diagnostics, vaccines, and other health tools for devastating, unmet global health challenges.
Awards will be presented in two categories:
The Partnership Award will celebrate an innovative research and development (R&D) partnership that brings together industry, government, nonprofits, academia, or other partners to advance a high-impact and game-changing global health technology. At least one partner must be a US-based organization.
The Congressional Champion Award will honor two US Members of Congress whose actions have strengthened political will and advanced US efforts to develop technologies to fight the world's most challenging diseases and health conditions.
Eligibility
Partnership Award

GHTC will honor one innovative R&D partnership that has advanced, or is working to advance, a high-impact, game-changing new drug, vaccine, diagnostic, or other tool for a critical unmet global health challenge. The partnership must include participants from across sectors, such as government, nonprofits, private industry, and academia.

Partnership must be specifically designed to develop, advance, and bring to scale an urgently needed drug, diagnostic, vaccine, or other tool for an unmet global health need;
Tool advanced through the partnership must be high-impact, or have the potential for high-impact, on the unmet global health need or target population;
Partnership must be two or more entities and must include at least one US-based organization (government agency, nonprofit, academic institution, private industry, etc.);
Award must be received in-person by a representative of the partnership at the Innovating for Impact Awards dinner in late November 2017.

Congressional Champion Award

GHTC will honor two US Members of Congress who have taken concerted, vocal action to advance R&D to support global health, pandemic preparedness, and/or health security.

Nominees must be sitting members of the US Congress;
Award must be received in-person by the honoree at the Innovating for Impact Awards dinner in late November 2017.
Application
Submit nomination here;
Organizations or individuals are not limited in the number of nominations they submit;
All nomination materials submitted will become the property of GHTC, which organizes the Innovating for Impact Awards;
All nominations for the 2017 awards must be submitted by the deadline of September 20, 2017.
For more information, visit GHTC Innovating for Impact Awards.