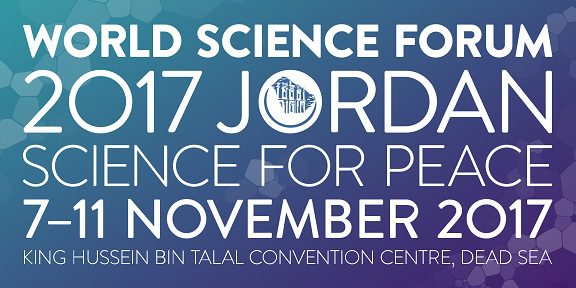 8th World Science Forum Jordan 2017: Travel & Accommodation Grant for Journalists
Deadline: September 22, 2017
This is an open call for applications for all science journalists to attend the 8th World Science forum in Jordan. The Royal Scientific Society of Jordan will host the 2017 biennial event themed 'Science for Peace'. To further encourage this, SciCom and the Royal Scientific Society of Jordan will jointly facilitate the attendance of up to 25 international science journalists at WSF 2017. (Note that media can request WSF participation at their own expense via the online registration pager).
The open call for applications is being coordinated with the World Federation of Science Journalists, a not-for-profit, non-governmental organisation, representing 55 science journalists' associations of science and technology journalists from Africa, the Americas, the Asia-Pacific, Europe and the Middle East. The World Science Forum has since grown to become a leading global science policy gathering. Hosted at the King Hussein Bin Talal Convention Centre, located at the lowest point on earth on the shores of the Dead Sea.
The over-riding aim of WSF 2017 is to create the first scientific open forum in the Middle East to advance global thinking and to support action on critical issues such as: Energy and Water; Food; Climate Change; the Alleviation of Poverty and Inequality; Cultural Understanding Between Peoples and the Creation of Wealth and Opportunity Within All Societies. Speakers and panelists comprise of distinguished and carefully chosen thought-leaders from around the world, drawn from science, academia, government, policy and industry.
Benefits
In addition to ample interviewing and press point opportunities, successful candidates will be provided with:
free conference registration;
free accommodation from 7 – 11 November inclusive;
free onsite catering;
free access to all programme and side-event activities; &
a lump sum of maximum €350 towards proven travel costs.
Eligibility
All journalists, irrespective of their gender, age, nationality, place of residence and media (paper, radio, TV, web) are welcome to apply.
Media accreditation will be required.
Grant Conditions
To a value of €350 maximum including transfer fees, the travel grant will be transferred to the 25 grantees immediately after the meeting, subject to:
Mandatory participation in the daily press briefings;
Publishing of at least one print or online press article or audio-visual feature in any language about WSF 2017;
Provision of a one-page event report in English; &
Completion of a feedback questionnaire regarding the scheme.
Application
Begin your application by filling the online form.
You will be required to upload your CV.
For further information, please contact Aidan Gilligan: [email protected]
For more information, visit The World science Forum 2017.