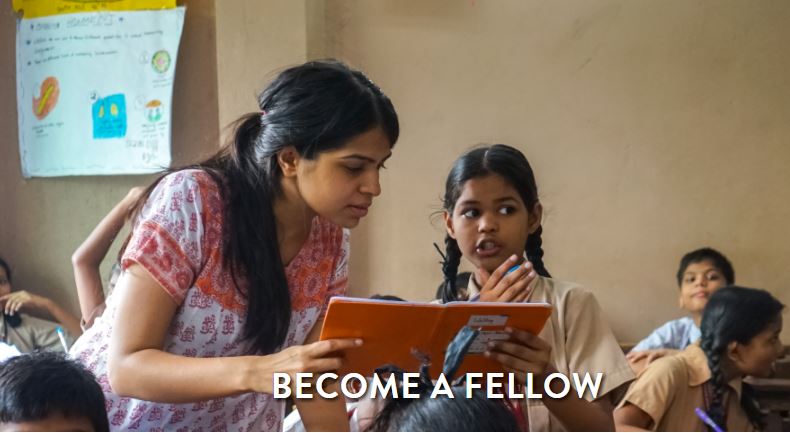 Apply for the Teach for India Fellowship Program 2018-2020 (Salary of Rs. 17,500/month)
Deadline: February 4, 2018
Applications are open for the 2018 cohort of the Teach for India Fellowship Program. The program is an opportunity for India's brightest and most promising youth, from the nation's best universities and workplaces, to serve as full-time teachers to children from low-income communities in some of the nation's most under-resourced schools.
Through this experience of teaching in classrooms and working with key education stakeholders like students, principals, and parents, Fellows get exposed to the grassroot realities of India's education system and begin to cultivate the knowledge, skills, and mindsets necessary to attain positions of leadership in education and identify their role in building a wider movement for educational equity in the country. Fellows transform the life paths of children in their classroom, and in turn transform themselves towards leadership in educational equity.
The two-year commitment is necessary to make the impact Teach for India wishes to have on student achievement. In the first year, Fellows will refine their teaching skills and will start to establish respect and trust among various stakeholders within the school community and the students. This will allow Fellows to achieve significant academic gains for students and to implement their community/school project in the second year. Furthermore, Teach For India is looking for leaders who are willing to commit to long-term change and have the perseverance to work hard in challenging situations. In this context, the two-year commitment is but a small step towards long-term reform.
Remuneration
Fellows will be paid a salary of Rs. 17,500 per month;
If required to relocate from their home city, Fellows will be given a housing allowance ranging from Rs.5500 to 10,000, depending on the city in which they will stay;
In addition, Fellows will receive an allowance for school supplies.
Eligibility
You must have completed all coursework required for your undergraduate degree (Bachelor's degree equivalent) from an accredited college or university by the last week of May 2018. Your degree transcripts (graduate/postgraduate certificates) will be reviewed before an admission decision can be taken. Applicants must also pass any coursework indicated in their transcripts at the time of the interview;
You should be either (i) an Indian citizen or (ii) a foreign national of Indian origin. Foreign citizens who are not of Indian origin are not eligible to apply. Note to Foreign nationals of Indian origin: For more information on the OCI card, please go to the Ministry of Home Affairs. To apply for the OCI card, please go to the Online OCI Registration Form. It is recommended that you apply for the OCI card as soon as you have made the decision to join the Fellowship, as it takes approximately 1-3 months to receive the card;
The Fellowship is a full-time, paid commitment to teaching and living in one of the placement cities (Mumbai, Pune, Delhi, Chennai, Hyderabad, Ahmedabad, Bengaluru) starting May/June 2018. Fellows will be full-time staff members of the schools in which they are placed and will work stipulated school hours six days a week as well as attending training and support sessions as per city requirements;
You should be fluent in the English language as Teach For India Fellows will be placed in English-medium schools and will be expected to teach in and attend training sessions conducted in English;
There is no age limit to apply for Teach For India Fellowship.
Other Requirements
Fellows should be leaders of the movement towards educational equity. Aside from passion and commitment to the vision of educational equity, they look for leadership potential that can develop through the two year Fellowship;
Fellows should be critical thinkers and problem solvers. They should have grit, courage and set high expectations for themselves and for others. They should demonstrate interpersonal skills through their interactions with various stakeholders;
Application
Stage One: The application form is an opportunity for them to get to know you. It can be as detailed as you want it to be. Through the application they will understand why you want to join Teach For India and why you would be a strong fit for the Fellowship. Once you submit your application you will receive a link to a one hour online test (AMCAT) which focuses on situational judgement and English language ability. This must be completed within 4 days from the date you submit your application form. Your application will not be complete until you complete the test.
Stage Two: After they have reviewed your application form and completed AMCAT test, they may have some additional questions for you. If so, you will be invited to attend a 30-minute phone interview with one of the team members. Here they will ask follow-up questions to gain further information that will be helpful in their evaluation.
Stage Three: If successful in your application, you will be invited to the final stage of the selection process – an in-person Assessment Centre. Here, you will teach a 5-minute lesson, take part in a group discussion and complete a short problem solving activity. You will also have an hour-long personal interview with one of Teach for India staff members. If you are based abroad and cannot attend one of our in-person Assessment Centres, they will conduct your interview and relevant activities over Skype.
If you have any questions about the Fellowship or the application process, please email [email protected] and the recruitment team will be in touch to support you through the process.
Application Deadlines
There are four application deadlines for the 2018 Fellowship:
Deadline 1: Sunday, September 3, 2017, 10:00 PM IST

Deadline 2: Sunday, October 29, 2017, 10:00 PM IST

Deadline 3: Sunday, December 10, 2017, 10:00 PM IST

Deadline 4: Sunday, February 4, 2018, 10:00 PM IST
For more information, see FAQ or visit Teach For India Fellowship.