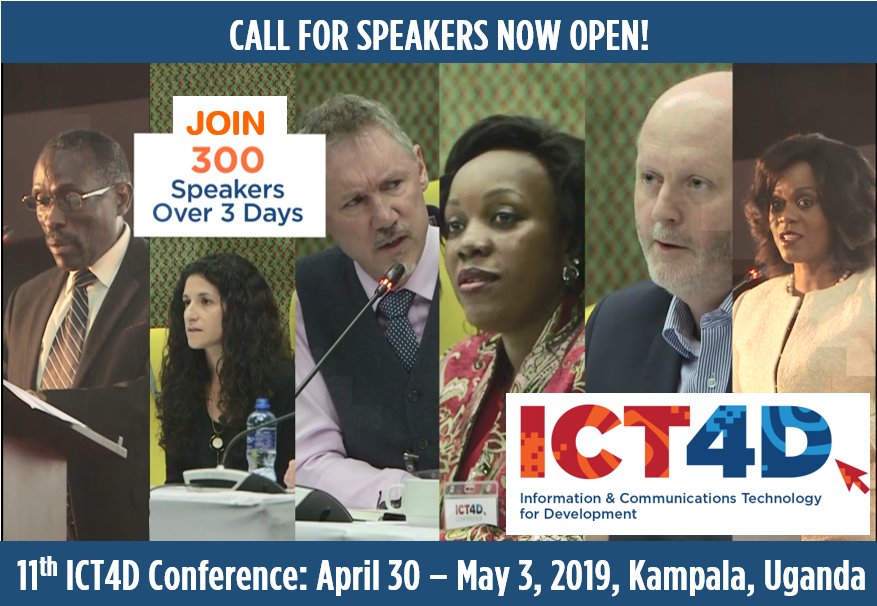 Call for Speakers: 11th ICT4D Conference 2019 in Kampala, Uganda (Scholarships Available)
Deadline: November 30, 2018
Apply to be a speaker at the 11th ICT4D Conference in Kampala and to present your work in front of a diverse audience interested in digital innovations for development and aid. The conference, taking place April 30 to May 2, 2019, connects public, private & civil society organizations to exchange ideas on digital tech for aid & international development.
Share your ICT4D experience, showcase your work, learn from your colleagues, and engage in a cross-sector discussion regarding implementation challenges and best practices. This year's conference offers a unique, hands-on opportunity to explore how people around the world are using ICT4D to:
Enhance program quality
Improve decision-making
Increase impact and
Accelerate progress toward the UN's Sustainable Development Goals.
Speaking is a great way to share your experience in implementing ICT4D solutions, stimulate discussion about the challenges and best practices surrounding their use, and introduce people to new ways of doing relief and development work.
Conference themes for 2019 are:
Agriculture
Digital Financial Inclusion
Digital Diversity: Gender and Disability Inclusion
Education and Digital Literacy
Health and Nutrition
Humanitarian Response and Resilience
Digital Development in Uganda
Supply Chain
Water Security (WASH, Water Resource Management)
Youth Engagement
You will be given an opportunity to select a first and second theme preference during the application process. Submissions will be filtered based on these responses and sent to the responsible ICT4D Conference Committee for review.
Conference track session formats will include:
40 minute case studies, presentations or speeches (including 10 minutes for Q&A)
10 minute Demonstration Stage presentations
40 minute panel discussions arranged by the ICT4D Conference Committee
Roundtable discussions arranged by the ICT4D Conference Committee
Scholarships
A limited number of scholarship awards are available to applicants to speak. These awards are primarily open to applicants from Local NGOs, NFPs or social enterprises or organizations headquartered in global south regions as defined by the World Bank.
You may opt to apply for a scholarship in your application to speak. They particularly encourage applicants in the youth category to apply.
Eligibility
Speakers are selected with reference to the following criteria:
Exceptional innovation in ICT4D
Credibility and experience of the presenter and/or organization
Clarity of the submitted abstract
Relevance of abstract to conference themes
Verifiable results and impact of the program/project
Extent to which the program/project is replicable and scalable
Diversity of speaker or program beneficiary: this includes but is not limited to gender, age, nationality, previous participation as a speaker, region where speaker is based
Awards are made by the ICT4D Conference Scholarship Committee and are based on criteria including a demonstration of excellence in ICT4D and economic need.
Application
You will be asked to write a short essay outlining why you require a scholarship.
For more information, visit ICT4D Conference.