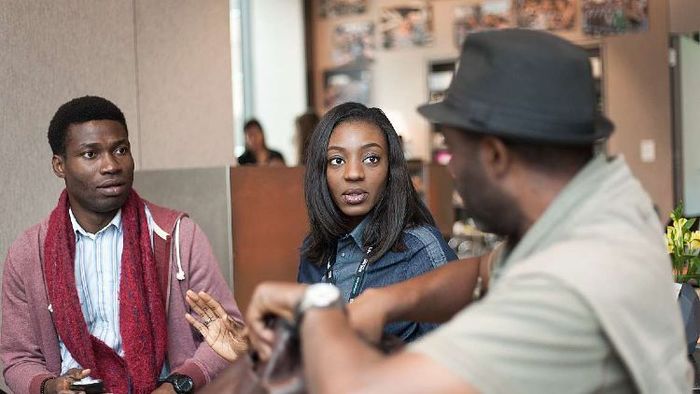 DOK.network Africa Residency Program for Filmmakers 2019
Deadline: November 18, 2018
Are you a young African filmmaker looking for an international training platform to develop your new documentary film project? Apply for the DOK.network Africa Residency Program 2019.
DOK.fest München together with the Department of Arts and Culture of the City of Munich and the University of Television and Film Munich (HFF) offers a Residency Programme accompanied by training in story and treatment development, financing and pitching.
The DOK.network Africa residency is aimed at supporting emerging filmmakers from African countries to develop their feature-length narrative documentary film projects at the international level. The residency includes two programme periods: 1st period: January 7 to February 28, 2019 / 2nd period: April 1 to May 30, 2019. The month of March is planned for further research and filming in the respective home country.
Program Details
Block 1: Close connection to the film academy programme, cultural exchange & excursion
During the first training block, the scholarship holders will further develop their materials in close connection with the curriculum of the University of Television and Film Munich (HFF). The programme includes workshops and mentoring in the following areas:
Story and treatment development
Budgeting and financing
Pitch training
This phase also includes cultural exchange events in Munich as well as an excursion to the Berlinale.
Block 2: Pitching at DOK.fest 2019
During the second stay, the residents will have the opportunity to pitch their projects at the industry platform of DOK.fest München, the DOK.forum Marketplace (May 9-12, 2019). This period includes the following steps:
Pitch training
Pitch production
At selected roundtables, all participating filmmakers will be invited to discuss and further develop their projects with producers, commissioning editors, distributors and sales agents especially interested in African content. The objective is to facilitate new co-productions through targeted matchmaking. The residents will get full accreditation for the 34th DOK.fest München from May 8-19, 2019. The month of March is planned for further research and filming in the respective home country.
Cost
They offer two scholarships including travel costs to and from Munich, a mentoring and training program, monthly allowances and accommodation in the International Artist Residence Villa Waldberta of the City of Munich.
Eligibility
Open to filmmakers (directors/authors) who
Are younger than 35 years old
Hold the citizenship of a sub-Saharan African country and primarily live and work in Africa.
Currently work on a feature-length documentary film (minimum 52 min.) which is supposed to be shot and produced in an African country
Are fluent in the English language, in both its written and spoken form
Application
In order to apply for the Residency Programme please send the following two PDF documents in English to: [email protected]
1st PDF: Please fill in the application form completely (please only edit the downloaded version). Please insert your first and second name in the title of the PDF file: LastName_FirstName_OnlineForm_DNA_2019)
2nd PDF: Please also send us your project outline as one single PDF file (max. 2 MB), covering the following aspects:

Project title
Synopsis (max. 4,000 characters)
Film length (please note that we only accept projects for feature length documentary films beginning from 52 min.)
Visual concept (what is your intended approach and which cinematic means are you going to use? E.g. Observational / interview / essay film etc. / Told with e.g. archive material / fictionalised elements / animation etc.)
Director's statement (why do you want to do this film? Max. 2,000 characters), Budget plan and financing strategy
Please insert your first and second name as well as the project title in the title of the PDF file: LastName_FirstName_ProjectTitle_DNA_2019)
For more information, visit DOK.network Africa Residency.