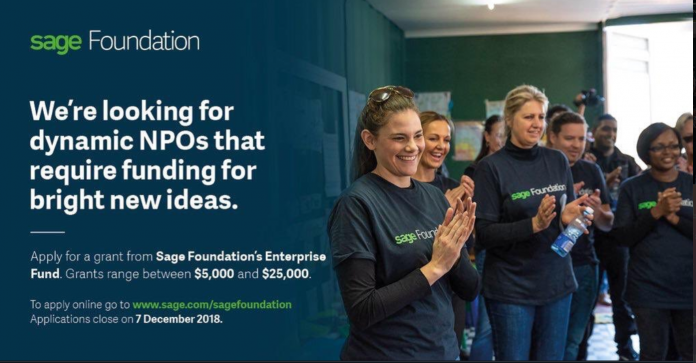 Sage Foundation Enterprise Fund for Non-profits 2019 (Up to $25,000)
Deadline: December 7, 2018
Applications are open for the Sage Foundation Enterprise Fund for Non-profits 2019. The Enterprise Fund will support the creation of either new or piloted entrepreneurial programs or initiatives that may go no further due to funding challenges.
Sage Foundation is committed to helping the most enterprising solutions become a reality in communities. They are looking for enterprising and entrepreneurial ideas to help improve the lives of either: military veterans, young people or women and girls in 21 countries where they operate around the world.
Focus Areas
Sage Foundation has four key themes that underpin their work and shape how their contribute towards communities:
Education
Enterprise & Employment
Diversity & Inclusion
Health & Wellbeing
Grant
A limited number of grants between $5,000 – $25,000 will be awarded from this $500,000 Enterprise Fund.
Eligibility
You must be a recognized/registered charity or non-profit organisation in accordance with local country governance and laws;
Your organisation must have an income that is less than $2M;
Your organization's work must focus on either supporting Military Veterans, Young People (up to 25 years) and/or Women and Girls;
Your funding request is to support projects or initiatives that have been operational for two years or less;
Your funding request must be for work that is delivered and benefits communities within a 50 km radius of a qualifying Sage office. Please note: Locations will be detailed in the application form;
Your organisation must be able to provide volunteer opportunities for Sage colleagues to support you and/or your work.
Application
For more information, visit Sage Foundation.