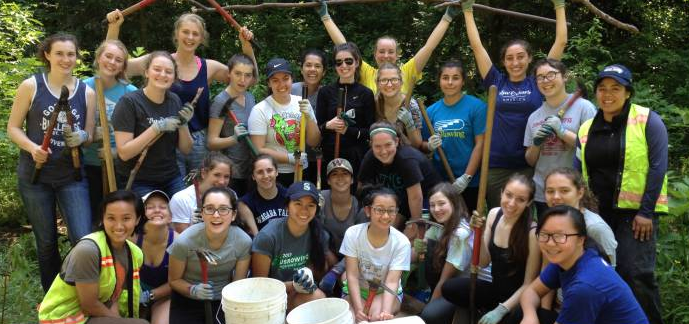 EarthCorps International Corps Member Position 2019 for Young environmental leaders
Deadline: January 7, 2019.
Applications are open for EarthCorps International Corps Member Position 2019. The international Corps Member position with EarthCorps is a 6-month service learning experience for non-U.S. citizens, which takes place in Seattle, Washington, USA. Young environmental leaders from countries outside the United States will join US AmeriCorps Members to develop skills in environmental service, community building and leadership. International Corps Members are sponsored by EarthCorps on a J-1 Trainee visa.
This is not a classroom or workshop. Corps Members spend 80% of their time in the field, engaged in environmental restoration projects throughout the Puget Sound region of Washington State.  Restoration is physically demanding and takes place outdoors in all weather conditions.
About EarthCorps
EarthCorps is a Seattle-based nonprofit organization with a mission of developing leaders to strengthen community and restore the health of our environment.  EarthCorps' International Corps Program is an intensive 6-month-long training and service opportunity. They unite young adults (age 18-28) from across the United States and around the world to learn skills in habitat restoration, community building, and leadership. EarthCorps program participants are part of a diverse group of emerging environmental leaders committed to teamwork, service, and personal growth.
Position Details
STATUS: Exchange Visitor under J-1 Visa training program
PERIOD: June 3 – December 12, 2019  (must be able to commit to the full term)
RATE OF PAY: Living stipend of $330/month (USD)
TYPICAL HOURS OF SERVICE: 7:30 a.m. – 5:00 p.m. Monday – Friday
​some Saturdays required, some Mondays off
Benefits
Homestay provided (room and board)
Days off permissible as designated by EarthCorps
Holidays will be paid as designated by EarthCorps
Medical Insurance
Bus Pass provided
Education & Training
Boots, pants, t-shirt, rain gear and safety equipment provided
Duties & Responsibilities
FIELD SERVICE (80% of program): Corps Members work on a crew of 5-7 young adults performing environmental restoration. A Crew Leader guides the crew as they complete restoration projects throughout the Puget Sound region (in urban, suburban, and rural settings).

Project Implementation: Corps Members are responsible for the efficiency of accomplishing projects and the quality of the final product under supervision from project staff. Corps Members and staff are responsible for the safety of themselves, their fellow workers, and members of the public who may be involved with projects.
TRAINING & WORKSHOPS (20% of program): Corps Members participate fully in retreats, workshops, and field trainings. These sessions provide skills and context for the restoration work that Corps Members complete. Topics covered include environmental restoration theories and concepts, natural resource management and global environmental issues, basic botany and ecology of the Pacific Northwest, leadership skills, and interpersonal and cross-cultural communication.
Eligibility
Eligibility for J-1 Trainee Visa:

University degree in a related field and 1 year of work experience ​
OR
5 years of work/volunteer experience in a related field

Ability to work hard in all weather conditions,
Commitment to cooperation and teamwork with peers from around the world,
Conversational English ability,
Ability to lift up to 50 pounds (22.5 kg); Hike up to 8 miles (13 km) while carrying 40 pounds (18kg) of weight for up to 9 hours per day.
Requirements
Experience in outdoor field work or physical labor,
Commitment to community service and previous experience in volunteer service,
Enthusiasm for environmental conservation, science, recreation or other related field,
Capacity to learn and grow in a service training position,
Between 18-28 years old
Application
Applications will be reviewed on a rolling basis until hiring for the 2019 cohort is complete. Priority consideration will be given to complete applications received by January 7, 2019.
For more information, visit EarthCorps.