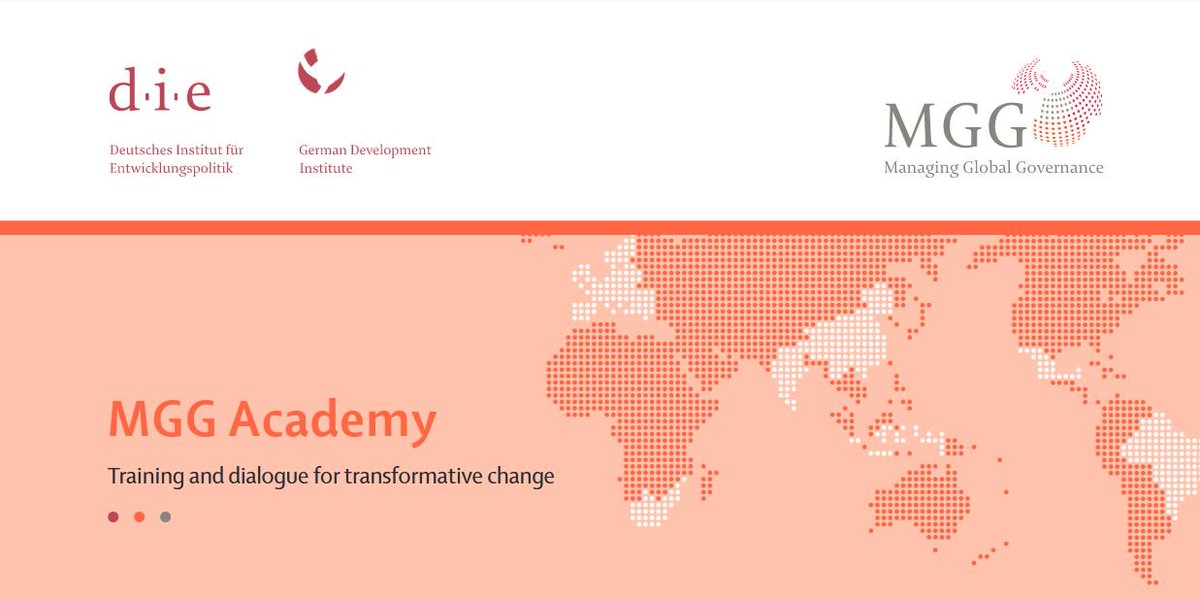 Managing Global Governance Academy 2019 in Bonn, Germany (Scholarship available)
Deadline: February 15, 2019
Applications are invited for the Managing Global Governance (MGG) Academy 2019. The Academy is a dialogue and advanced training course that brings together young professionals from rising powers and from Europe. Its overarching purpose is to support the development of future change makers who are addressing global challenges and are dedicated to transformative change.
The Academy is based on the premise that future change makers need profound knowledge of content and the ability to analyse complex interdependencies as well as personal and social skills. The course thus blends knowledge components on global governance challenges with the development of the participants' leadership competencies. In an action-oriented component, participants apply the knowledge and competencies they have acquired and develop a collective change project.
After completing the MGG Academy, the alumni are invited to become actively engaged in the MGG network. They may get involved in ongoing research and policy projects to promote the implementation of the 2030 Agenda or develop their own projects to promote transformative change. The Academy will hold from August 15 – December 11, 2019 in Bonn, Germany.
Scholarship
The participants in the MGG Academy are granted a scholarship from the German Federal Government. The scholarship covers the current costs of living, all MGG related costs and travel expenses in Germany and Europe as well as health, personal liability and accident insurances during the training in Germany.
Eligibility
Applicants should work in a governmental organisation, policy-oriented think tank, research institution, civil society or private sector oranisation in an MGG partner country (Brazil, China, Europe, India, Indonesia, Mexico, South Africa);
Work on issues relevant to global governance such as international trade, international economics and finance, environmental challenges, international security or development cooperation;
Speak English fluently;
Have at least three years of working experience;
Be open to a broad variety of working methods;
Be willing to reflect on collective and individual experiences and competencies;
Be sensitive to other cultures.
Application
To successfully apply to the MGG Academy 2019, please
Download the application form and have it duly filled, signed and stamped by yourself and your employer
Afterwards apply here
Please upload the application form part 1 and part 2 duly filled, signed and stamped to your application. (Please upload the whole form as filled pdf-file. Please only print pages 9 and 12 and upload them signed and stamped as scanned copy. Please include application forms part 1 and 2, your CV, diplomas, passport and English language certificate to your online application.) Kindly understand that the organizers are not able to take incomplete applications into consideration.
For more information, visit MGG.