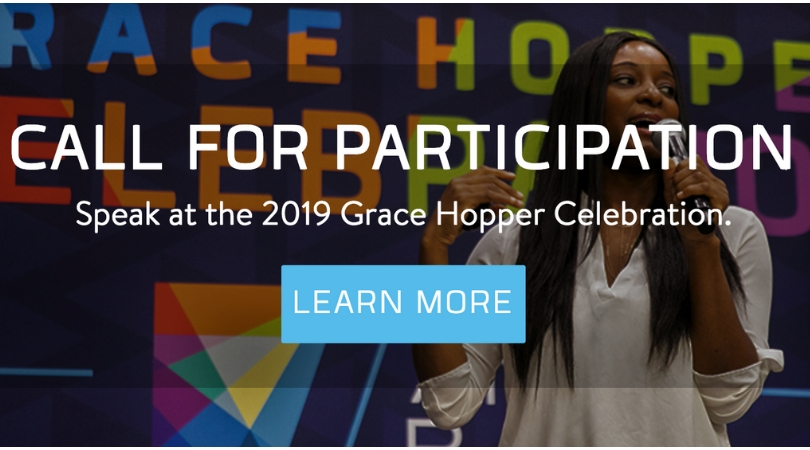 Apply to Speak at Grace Hopper Celebration (GHC) 2019 in Orlando, FL, United States
Deadline: March 6, 2019
Call for Participation: apply to speak at the 2019 Grace Hopper Celebration (GHC). The Grace Hopper Celebration is the world's largest gathering of women technologists produced by AnitaB.org and presented in partnership with ACM. GHC 19 will be Oct. 2–4 in Orlando, FL.
Don't miss the chance to learn more about your field, network with new people, and discover how you can further your career. Check out the tracks, speaking formats, and requirements to learn more.
Tracks
GHC 19 tracks offer a wide-range of fields for every technical woman. Speakers will participate in presentations, panels, or workshops. They are actively looking for and encourage you to submit intermediate and advanced level content.
Academic
Artificial Intelligence
Career
Computer Systems Engineering
Data Science
NEW – Emerging Technology
NEW – Hardware
Human Computer Interaction
Interactive Media
IoT/Wearable Tech
Mentoring Circles
Open Source
Organizational Transformation
Poster Session
Products A to Z
Security/Privacy
Software Engineering
NEW – Tech Meetups
Tech for Women
NEW – Virtual, Augmented, and Mixed Reality
Session Types
They offer a variety of formats for both speakers and attendees to find the sessions that fit them best. After selecting a track, explore all of our options to discover which one fits your speaking style and goals. Select a submission type below to view more information and specific requirements. Please note, you are only able to submit and/or participate in one submission per session type.
Panel: A group of individuals convene and discuss a particular topic.
Presentation: A chance for you to share your in depth knowledge about a particular topic.
Workshop: Interactive session with a presenter-lead, structured training followed by in-depth discussions, exercises, or problem solving.
NEW – Tech Meetup: A short presentation followed by a group discussion about your topic.
Mentoring Circles: Speakers sit at a table with nine participants maximum and interact with them for six short mentoring session (20 min each) on a particular topic.
Poster Session: Poster presenters informally present their research project on a poster to get feedback from experts in their field.
Eligibility
Expected Behavior
All speakers must register for GHC. If you are unable to speak after confirming your participation, complete the speaker change request form or inform AnitaB.org as soon as possible if you will not have a substitute.
All speakers commit to presenting as scheduled by AnitaB.org.
Speakers must arrive to their assigned room 30 minutes before their session begins.
Speakers must discuss the work for which they were selected to present. Any handouts you provide to attendees must be directly relevant to the session topic and your work.
Unacceptable Behavior
Speakers may not use their scheduled talk to promote irrelevant agendas.
Speakers may not hand out promotional materials before, during, or after their session.
All promotional material must be distributed at their company's booths.
Speakers may not bring company swag into the session room with the intent of distribution. Swag may only be distributed at the speaker's company booth in the Expo Hall.
Application
Make sure to check out the session formats and submission requirements before applying to speak.
For more information, visit Grace Hopper Celebration.