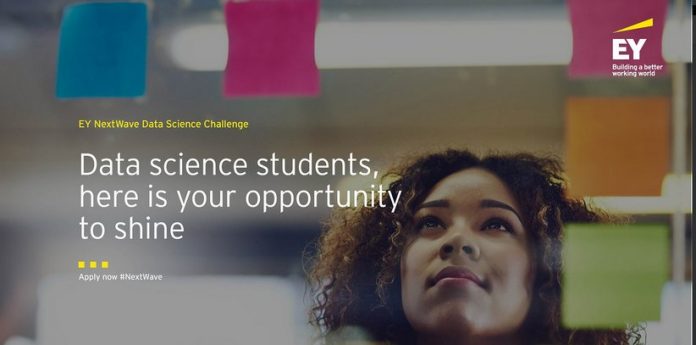 EY NextWave Data Science Challenge 2019 (Over $15,000 in prizes)
Deadline: May 10, 2019
Applications are open for the EY NextWave Data Science Challenge 2019. The EY NextWave Data Science Challenge is a global competition for students interested in data science who want to make a difference. They are looking for individuals to analyze real-world problems through data and make findings that will help build a better working world.
By participating in the EY NextWave Data Science Challenge, you will get to hone your technical skills, develop new expertise and, if you do well, win an internship or prize money and gain public recognition for your achievements. You will also be helping to build a better working world. Are you up for the challenge?
Benefits
Winner/s in each country/region will be offered a paid internship with EY's Data Analytics team;
In addition, the top three global finalists will receive a monetary reward:

First place: US$8,000
Second place: US$5,000
Third place: US$2,000
Eligibility
Open to teams of up to two students who are currently enrolled in a full-time or part-time academic program that resides in one of the participant countries/regions: Australia, Belgium, Brazil, China, France, Hong Kong, Indonesia, Ireland, Malta, Poland, Singapore, South Africa, Spain, United Kingdom, United States
Students who wish to apply must be studying at university for an undergraduate degree that is at least two years in duration or, in some countries, a master's degree. Please check your country's or region's Terms and Conditions, as special conditions apply to eligibility. These courses should be related to data science, engineering, mathematics, science or technology, but any other field will be considered as well.
The competition will be developed in English, so students must be proficient in this language in order to participate.
All team members must be from the same country/region but can be from different universities.
You are not eligible for this competition if you meet any of the following conditions:

You already graduated from your academic program.
You participated in this competition in the past and won a cash prize.
You work, or have worked, for EY as an employee, intern, or contractor.
How to Enter
Participants can enter the challenge separately, or in teams of two:
For more information, visit EY NextWave Data Science Challenge.