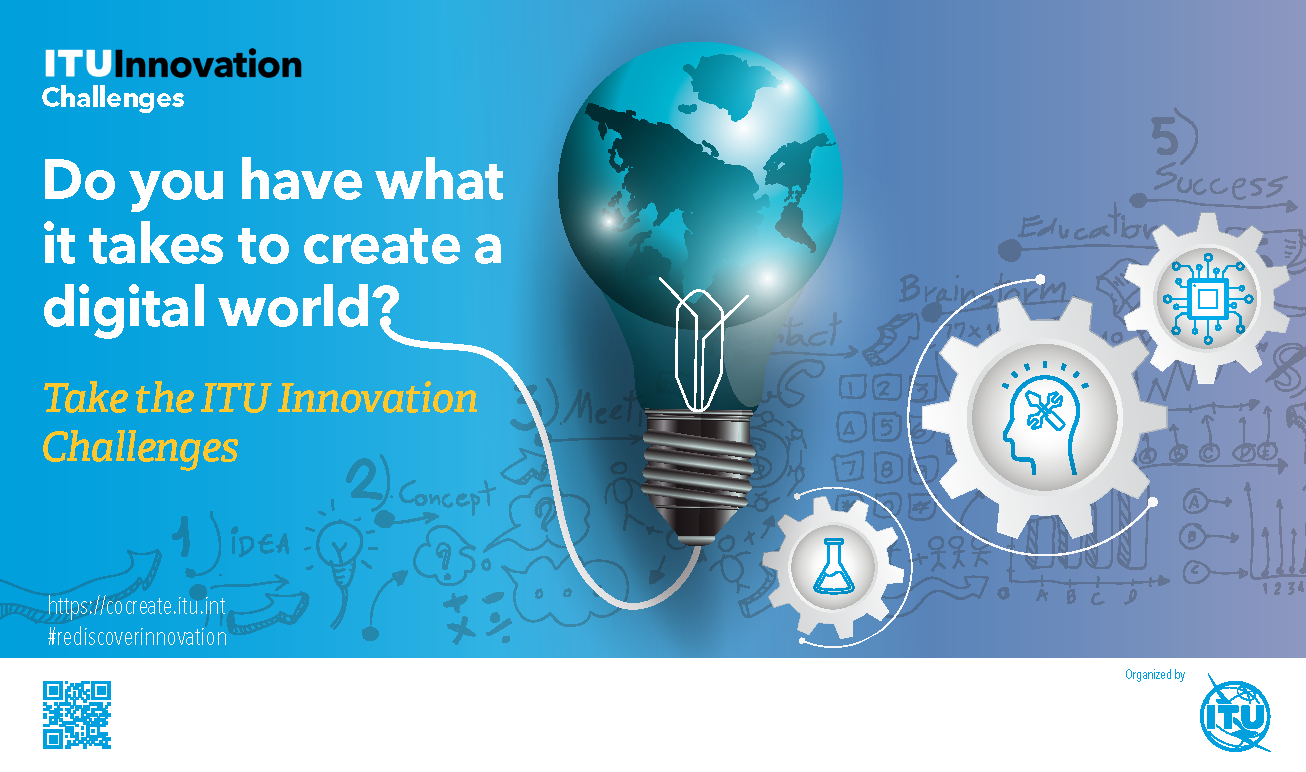 ITU Innovation Challenges 2019 for Young Chagemakers
Deadline: July 31, 2019
Do you have what it takes to create a digital world? Join a network of change-makers that will help you positively transform your community. Apply for the ITU Innovation Challenges 2019.
The ITU Innovation challenge features opportunities to co-create, facilitate digital transformation and build innovation capabilities through the use of knowledge exchange with experts and professionals, open innovation competitions and ecosystem networking opportunities. The expected outcome is the development of bankable projects and solutions that rethink sustainability and impact; ensuring the accelerated digital transformation of communities.
Categories
Digital change-maker Challenge: Do you have a remarkable story of how you would like to digitally transform your community to accelerate development in your region?
Ecosystem Best Practice Challenge: Do you have a best practice that enables innovators to develop ICT centric solutions that can be globally recognized and scaled?
Smart Communities Challenge: Do you have an ICT-centric solution that can scale-up to unlock the potentials of a smart community?
Benefits
Up to 10 global winners will be chosen by a jury of experts. Additional winners may be sponsored by regional organizations or countries in a specific region. Global winners, with the support of regional winners, will develop the winning ideas and pitch the refined proposal to a jury of experts during one of the events. They will be recognized as global change-makers who "have what it takes to create a digital world".
The selected winners will be rewarded with a trip to one of the key flagship events:
Round-trip air ticket (economy class) between major airport of the applicant's country and the event City.
Hotel accommodation during their stay,
Participate in event program where they will receive mentoring, capacity building, pitching and networking opportunities.
Participate in a boot camp to expose enhance their idea, with possibility of pitching their projects in front a large global audience
Have an opportunity to make strong case for collaboration with other markets
Be recognized an Innovation champion in the global stage with an award.
Eligibility
Participants of all age are welcomed to take part in the challenges however, participation to the Young ICT leaders Forum event in Busan is reserved for winners aged 18 to 35 at time of application;
You are welcomed to apply as a team as well. However, only one reward is given per winning team. In such case, the team will designate one person details for the reward in the application form, and attach the resumes of the other team members during the submission process.
Evaluation Criteria
Your proposal must meet the criteria of the specific challenge you are applying for. The winners will be invited to participate in one of the global event, either at the ITU Telecom World or the Young ICT leaders Forum.
Your application will be evaluated by a jury composed of senior ITU officials, host sponsors, and Innovation experts, based on the following criteria:
Originality: The concept of your proposal must be original to fit your context;
Creativity: Your idea must to be innovative and unique
Sustainability: The ways and methods to sustain your key activities must be clearly described;
Viability: Your proposed solutions must be realistic and logical. Bonus points may be awarded if you can categorize your solutions into short, mid and long terms;
 Impact: Your idea/proposal must be within the context of the challenge. You must consider cross-cutting impacts, problems and relevant solutions;
Co-creation: A special attention will be given to candidates who are actively helping other participants advance their ideas.
Application
Submit your project or idea on the platform– From the active challenges, choose the one that fits you the most. Share an overview of your proposal with the crowd using the post function
Gather a community to co-create – Use the social media feature to invite other participants to support your project. You can also request feedback on your idea from the platform community. You will need to gather 15 votes from the community to move from this stage
Refine your idea through expert advice – Learn from a community and other experts' insights to further develop your business model or project proposal
Submit your final proposal – Your final proposal must be documented using the challenge submission form and sent to a secure email.
For more information, visit ITU Innovation Challenges.