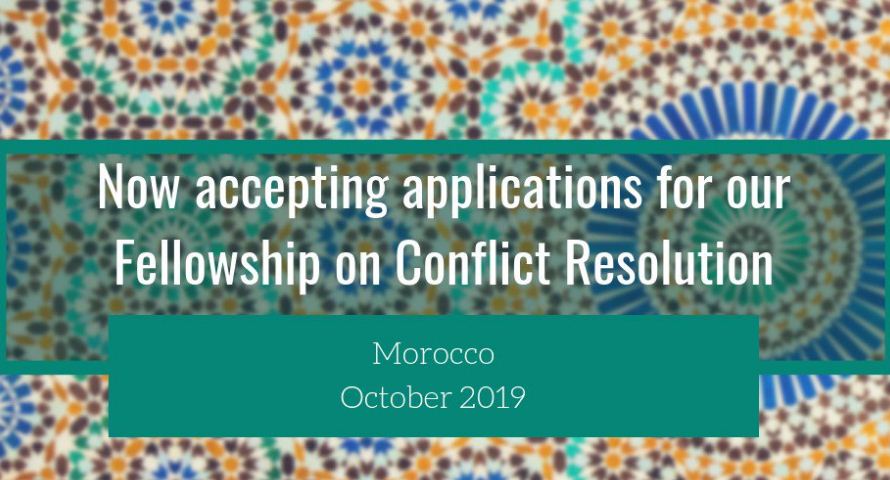 Open Hands Initiative Salaam Fellowship for Conflict Resolution 2019 (Fully-funded)
Deadline: July 14, 2019
Applications are open for the Open Hands Initiative Salaam Fellowship for Conflict Resolution 2019. The Salaam Fellowship for Conflict Resolution aims to bring together high potential young people from the U.S. and Morocco for the purpose of increasing mutual respect and understanding between the two countries.
The goal of the Fellowship is to equip participants with critical competencies in conflict resolution and negotiation at both the interpersonal and intergroup level, taking care to examine the cultural implications involved. Through open dialogue, interactive workshops, and real world application of the material, participants will develop a solid foundation in conflict management through a cross-cultural and international lens.
Cost
The Open Hands Initiative covers the costs for:
All training, speaker fees, and materials, as well as cultural activities
Travel costs: For Americans, round-trip economy class flight from New York JFK, Washington, DC, Boston, or Miami to Casablanca, Morocco and back. For Moroccans, regional transportation to the program start location and transportation back home at the end of the program
Local ground transportation throughout Morocco
Daily breakfast, lunch and most dinners. Two evenings have no scheduled activities and dinners those evenings will be at the participants' individual expense
Double occupancy lodging at 4-star hotel. Please note that each room will house one Moroccan and one American of the same sex
Fellows will be responsible for all other costs, such as transportation to and from their home airport, international calling plans, entertainment outside of the program, laundry services, passport fees, (if required), and souvenirs.
Eligibility
Open to citizens of Morocco or the United States (dual nationals will be considered)
Be between 18-30 years old. College students encouraged to apply
Proficiency in English
Availability from October 24-November 3, 2019
Expressed interest in cross-cultural exchange and learning in fellowship with others
Demonstrated leadership experience in your community, school, or workplace
Professional or volunteer work that reflects an interest in and/or experience in peacebuilding, conflict resolution, mediation, negotiation or related field
Application
For more information, visit Salaam Fellowship.