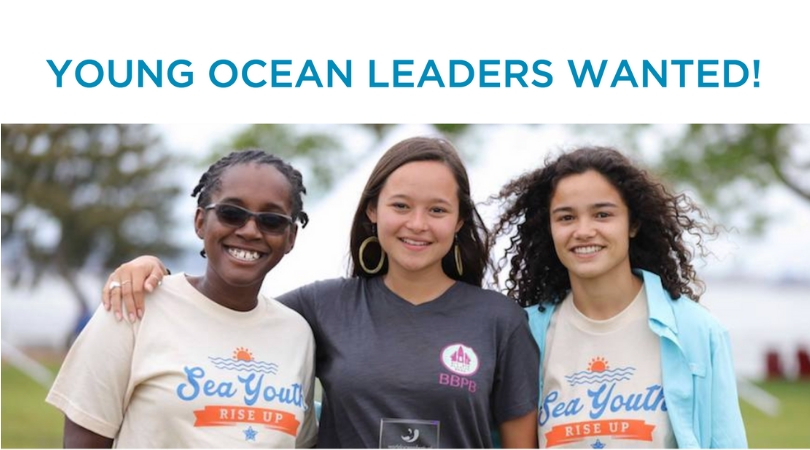 World Oceans Day Youth Advisory Council: Young Ocean Leaders Wanted!
Deadline: August 11, 2019
Young Ocean Leaders Wanted! The World Oceans Day is now accepting applications to join the #WorldOceansDay Youth Advisory Council! The Council is searching for 10 young ocean leaders from around the world to bring the Council to a grand total of 25 members! Apply to become a Youth Advisory Council member.
The World Oceans Day Youth Advisory Council (Council) was created in 2016 to develop World Oceans Day into a unique way to connect and unite youth around the world for a better future with a healthier ocean that sustains us all, no matter where we live. To do so, the Council uses World Oceans Day to rally the world on and around 8 June and provides opportunities for continued engagement and action year-round. 
The Council works closely with The Ocean Project and its global partner network to help shape the development of World Oceans Day as it grows – expanding its reach and impact by providing new and unique perspectives, ideas, and recommendations for innovative and effective engagement with youth and others from all sectors involved in celebrating World Oceans Day.
Structure
Council members are ages 16-22
The Council represents a broad and diverse network of 25 young leaders
A maximum of two members per country are accepted
Council members serve for two consecutive World Oceans Days
Council members are placed in one of five teams based on their location throughout their 2-year term
Upon completion of their term on the Council, members are encouraged to become World Oceans Day Ambassadors through the Council alumni network
World Oceans Day Ambassadors will continue to help grow the reach and impact of World Oceans Day and also serve as mentors for current Council members
Responsibilities
Develop at least one significant World Oceans Day event in their community, and ideally collaborate with other youth to develop multiple events
Share World Oceans Day social media posts and develop at least one blog post each year
Assist with translating World Oceans Day-related materials
Advance World Oceans Day through their own personal networks and connections
Connect with the broader World Oceans Day network to engage people in all sectors
Represent the Council at events, conferences, and important meetings throughout the year
Members should expect to spend an average of approximately 10 hours per month on Council activities, including regularly scheduled Zoom video calls, with slightly more time spent during January – June
Eligibility
Applicants should be between the ages of 16 and 22
Applicants must be able to make a two-year commitment – including approximately 10 hours per month to Council activities
Applicants must have a passion for ocean conservation!
Application
Apply to join the World Oceans Day Youth Advisory Council!
For more information, visit World Oceans Day.