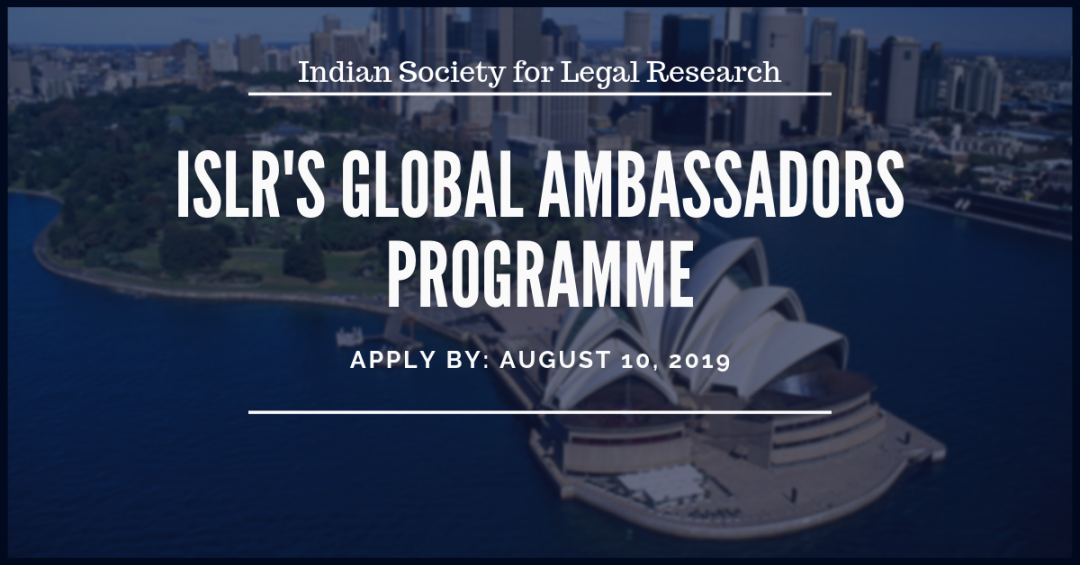 Indian Society for Legal Research (ISLR) Global Ambassadors Programme 2019
Deadline: August 10, 2019
Are you interested in making a difference in the field of legal research? Apply for the ISLR Global Ambassadors Programme 2019. The Ambassadors will contribute to plan, develop, and facilitate research activities that engage the public, spark dialogue, and encourage collaboration.
Ambassadors will also work to improve networks and build continuity and presence through ongoing involvement in international events in the field of law. These Positions are voluntary and unpaid; and will last from August 15, 2019 to January 15, 2020.
Indian Society for Legal Research is a non-profit and apolitical organisation which works in the field of legal research. Currently, they have launched a short term Project on International Courts & Tribunals and Electoral Reforms. They have also launched Online Certificate Course on International Humanitarian Law and Artificial Intelligence.
Benefits
The programme offers the chance to international work environment
Great opportunity to interact and work with law students of different nations
Certificate of experience at the end of the programme
No fee to join certificate courses launched by ISLR
The opportunity of publication in upcoming Books and Journals
Eligibility
Open for students of all Nations
Students should be enrolled in Undergraduate or Postgraduate Law Courses
Be proficient in the English Language
Basic understanding of Computer and Internet applications
Self-motivated and have strong research and analytical skills
Experience in Legal Research (desirable)
Application
To apply, send your updated CV and Cover letter to [email protected] by August 10, 2019.
For more information, visit ISLR.