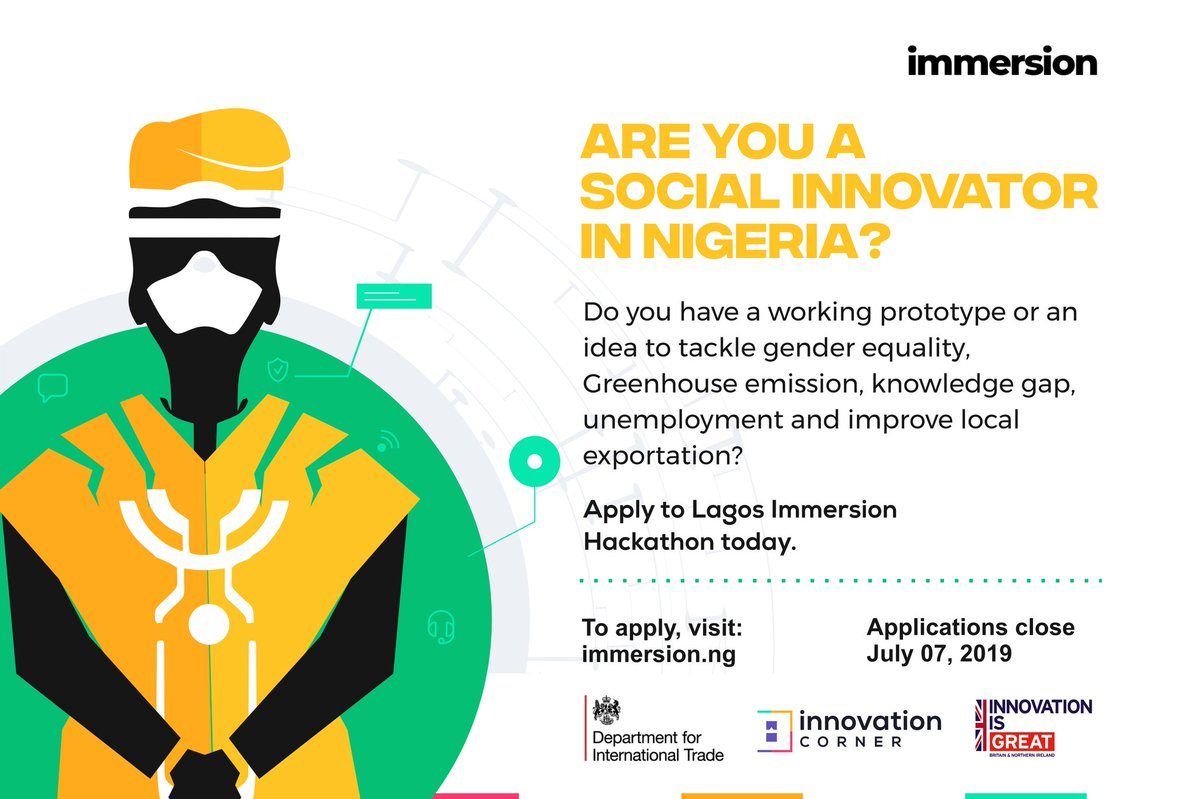 UK Government's Department for International Trade (DIT) Lagos Immersion Hackathon 2019
Deadline: July 7, 2019
The UK Government's Department for International Trade (DIT) in partnership with Innovation corner invites applications for the 2019 Lagos Immersion. A new challenge which aims to illuminate the strengths of the African technology scene and encourage greater investment; especially those which address some of the macroeconomic and development challenges of the continent.
Challenge Focus
How will you harness tech to support Nigerian companies to do more business internationally?
How would you use tech to increase gender equality?
How will you use tech to fill the skill/knowledge gap existing in the economy; putting into consideration the digitally excluded percentage of the population?
How will you harness tech to reduce the unemployment rate in Nigeria?
How would you leverage technology to reduce greenhouse gas emissions?
Benefits
Successful applicants will receive an invitation to the Lagos Immersion hackathon on July 10, 2019, and winners will receive the following:
Winners will be paired with mentors with investment background and access to a wider network for 4 months.
Winners will be invited to the Beyond Nigeria networking session with the Deputy High commissioner of the UK High Commission in August 2019 and subsequent sessions.
The opportunity to pitch your ideas to potential investors and partners in Nigeria and the UK.
Winners will receive support from the Department for International Trade and Innovation Corner.
Access to local and foreign Immersion corporate partners.
Eligibility
Open to social innovators in Nigeria
Applicants must have a working prototype or an idea to tackle gender equality, greenhouse emission, knowledge gap, unemployment and improve local exportation.
They are looking for:
A clear hypothesis underlying the proposed approach to improve the user experience of beneficiaries;
Details on the design and approach in application, including proposed pilot location.
A plan for evaluating the effectiveness of the approach and/or improving the user experience of beneficiaries;
Outline of the design of the proposed approach/intervention; and,
Innovations that involve building on, disrupting, or adapting existing systems.
Successful groups will describe how their approach would work within existing systems
Application
Innovative ideas with a clearly-articulated approach;
Approaches directly relevant to settings;
Approaches that do not rely on traditional information, education, communication approaches; they're keen on you being creative/innovative with your ideas
Approaches that do not rely on traditional social mobilization approaches;
Please note that approaches that present significant data safety risks or have an illegal steer will not be considered
For more information, visit Lagos Immersion.