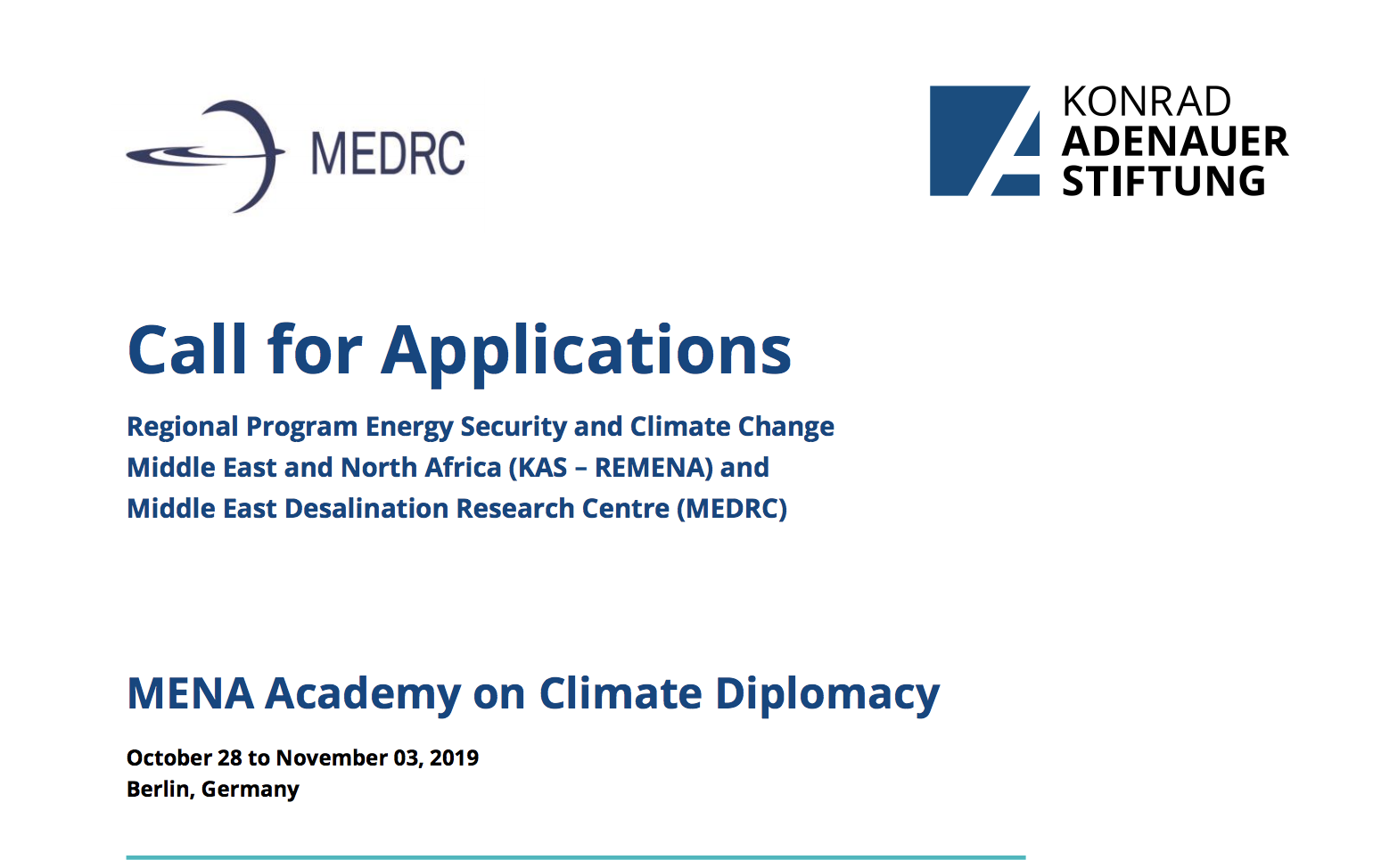 MENA Academy on Climate Diplomacy 2019 (Fully-funded to Berlin, Germany)
Deadline: July 11, 2019
The MENA Academy on Climate Diplomacy 2019 is open for applications. In its efforts to foster dialogue and collaborations among the various stakeholders involved in climate change adaptation and mitigation, the Konrad-Adenauer Stiftung Regional Program Energy Security and Climate Change Middle East and North Africa (KAS – REMENA) and MEDRC Water Research organize jointly the Middle East and North Africa Academy on Climate Diplomacy, from October 28 to November 03, 2019, Berlin – Germany.
This academy is designed to demonstrate the importance of climate diplomacy in dealing with the most challenging regional and international environmental, economic and social issues. To demonstrate this, the academy will bring to the table concrete examples and simulations. This training aims at providing a platform for young policy makers, researchers and civil society activists from the MENA region, to acquire the necessary tools of climate diplomacy. This platform will also be a chance to exchange and combine synergies for finding solutions to the global climate challenge with experts both from the MENA region and Europe.
Objectives
The academy invites young researchers, policy makers, and civil society activists from the MENA region and Turkey to better understand the current state of climate negotiations and governmental commitment in the MENA region.
The academy will also highlight the need for suitable diplomatic solutions to motivate cooperation around the way natural resources are managed and the countries commitment vis-à-vis climate.
This will be achieved through providing participants with a practical, creative, problem-solving approach to address conflicts related to climate challenges in the region
Theme
Training young policy makers, researchers and civil society activists on climate negotiations through the usage of interdisciplinary knowledge and skills to develop diplomatic capacities via the following four main themes:
Evolution of Climate Diplomacy;
Transboundary cooperation under political strain;
Political economy of Climate negotiations; and
Climate & water Diplomacy.
Cost and Benefits
The organizers will cover all expenses related to the participation of the event.
This includes:
Transportation: Round trip economy flight tickets will be provided by the organizers.
Accommodation & Meals: Both, hotel and meals will be provided to participants during the period of the meeting.
Eligibility
Open to young researchers, policy makers, and civil society activists from the MENA region and Turkey
Application
Please make sure to have the following information/documents at hand:
Short biography (150 words maximum);
Updated short CV (3 pages maximum);
Short abstract of your contribution to the academy (200 words maximum); and
Passport data page.
Interested participants should submit their application using the following online application form no later than July 11, 2019, 12:00 pm, time zone: WEST
For more information, visit MENA Academy.