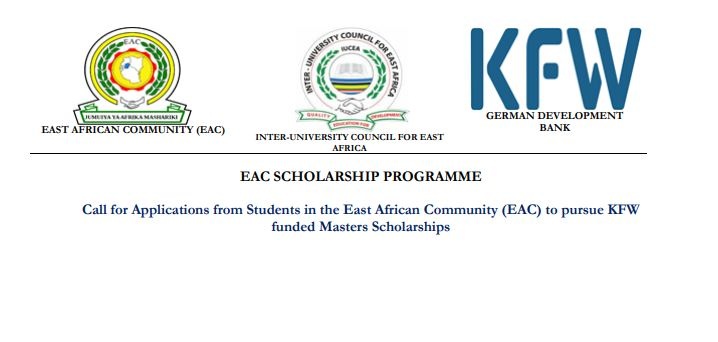 East African Community (EAC) Scholarship Programme 2019 for Masters Studies
Deadline: August 1, 2019
Call for application is open for the East African Community (EAC) Scholarship Programme 2019. The goal of this initiative is to contribute towards training leaders that will foster EAC regional integration.
Applicants are expected to study in countries other than their own in selected universities and programmes. Successful applicants will be offered a comprehensive package including scholarships for the masters programmes, internships, mentoring, networking events and further leadership training activities. The scholarship will support masters students in Mathematics, Engineering, Informatics, Science, Technology and Business Science programmes.
The scholarship is supported by the German Development Bank (KFW) in collaboration with the East African Community (EAC) and implemented by the Inter-University Council for East Africa (IUCEA).
Eligibility
Applicants must be citizens of a partner state of the East African Community;
Possess the required academic qualifications for admission to the programme;
Submit a well written motivation letter in English elaborating on the following:

Motivation for wanting to pursue a the Masters Programme chosen in section 2 above
Foreseen professional engagement in EAC Integration agenda after completing the Masters
Expect application of the acquired skills and knowledge from the Masters Programme to contribute the EAC Integration Agenda
Personal professional and academic vision in the next 5 to 10 years
Note: Please note that all the above should be covered in one letter of not more than 500 words

Be below 35 years of age
Have applied to study in an EAC Partner State other than their country of citizenship
Application
Applications will be submitted through the following process and steps:
Identify the programme and University of your choice
Fill the application form for admission to the university (available from the university, visit their website for more details)
Fill an application form for the scholarship
Append the supporting documentation for the admission as per university requirements and for the scholarship
Submit both application forms electronically to the University and copy to the following email addresses:
Supporting Documents
Please submit the following supporting documents together with the application forms
Signed curriculum vitae
Certified copies of all university degree certificates. Please combine into one file. If necessary, you may zip the file to make it smaller for uploading.
Certified copies of all university transcripts. Please combine into one file. If necessary, you may zip the file to make it smaller for uploading.
If applicable, an official letter confirming release from your employer. The letter must be on letterhead.
Recent passport photograph in colour of your full head and upper shoulders.
Evidence of citizenship of a Partner State in the East African Community such as copy of national identity card/passport/birth certificate;
A well written motivation letter in English showing the relevance of intended programme of study to the EAC integration and development agenda
For more information, see official call or visit EAC Scholarship.