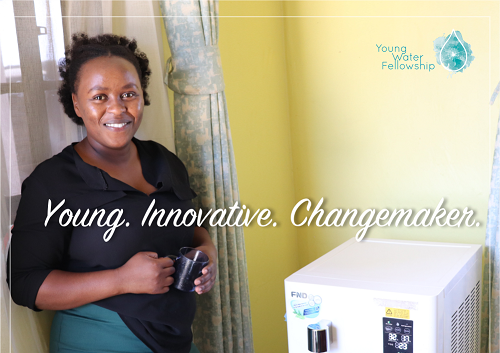 Young Water Fellowship East Africa 2019 for Young Entrepreneurs (Fully funded)
Deadline: August 18, 2019
Applications for the Young Water Fellowship East Africa 2019 are now open. The YWF EA offers 10 young entrepreneurs from East Africa a one-year support package that includes training, mentorship and seed funding opportunities to turn their water/sanitation initiative into a social business.
The 10 selected 'Young Water Fellows' will be invited to a 10-days start-up training in November in Uganda (delivered by our partner cewas), they will also be assigned mentors, get the chance to exponentially increase their supporting networks in the water and entrepreneurship sectors, and apply for seed-funding to pilot their initiatives.
The call is open to all young people from 13 East African countries, who are seeking to set up social businesses that tackle water, sanitation or water management issues in their communities.
Benefits
The 10 Selected Young Water Fellows will:
Be invited to participate in a fully funded Start-up training in Uganda: The training is delivered by a partner organization, cewas, a Swiss water start-up incubator that since 2011 trains water entrepreneurs. The 10-days training will be hold November 12th to 22nd (note that dates are approximate, and subject to change), and will help Fellows improve their business models. It finishes with the Pitching Night, an event where Fellows have the opportunity to pitch their initiatives to decision makers, East African stakeholders, and investors.
Receive coaching and mentorship for a year
Have the opportunity to apply for seed funding (up to €5000 for their pilot projects)
Be part of the YWF Alumni community
Eligibility
Be 18 to 30 years old at the time of the application
Be the founder or co-founder of an initiative that contributes to the solution of a well-defined water problem in your country. The initiative should be in its initial stages and have the ability to be turned into a social enterprise (i.e have a long-term sustainability component or business model).
Be a citizen and resident from one of these countries: Burundi, Comoros, Djibouti, Eritrea, Ethiopia, Kenya, Rwanda, Seychelles, Somalia, South Sudan, Sudan, Tanzania, Uganda
Have a valid passport and be available to attend the workshop in Uganda the dates it will be held (November 12th-22nd 2019)
All training costs are covered by the organization (flights, transportation, accommodation, meals), but participants must cover their visa expenses and transport costs to the closest international airport in their country of residency.
Be able to communicate in English (intermediate level at least).
The proposed initiative should directly contribute to solving at least one of the following issues, in line with the Sustainable Development Goal #6:
Lack of safe drinking water supply
Lack of adequate sanitation facilities and lack of hygiene
Water scarcity
Water pollution
Solid Waste management impacting water quality
Wastewater management
Other water management issues
Criteria
The selection of fellows will be based on the following criteria:
Relevance and impact of the solution proposed to a demonstrated water-related problem
The innovative nature of the idea and its potential to become a social enterprise
The inclusive and participatory nature of the initiative: for instance, women and youth engagement, consideration of vulnerable groups' needs, etc.
Initiative's inclusion of water nexus: relations with other local issues such as energy, food security, youth unemployment, gender, etc.
Feasibility and sustainability of the initiative (existence of self-sustaining mechanisms)
Leadership and personal growth potential of the candidate
Relevance of the YWF for the candidate and the initiative.
Application
While preparing your application, please read the guidelines to increase your chances of being selected. These are its Terms of Reference.
To apply, you must fill in the online form using the link below. We recommend that you start preparing your application offline using the Word version that you can download here.
For more information, visit Young Water Fellowship.