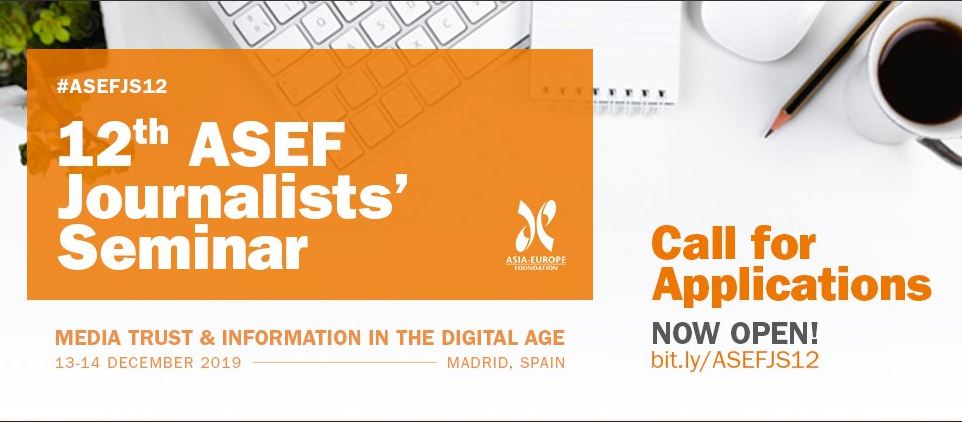 12th Asia-Europe Foundation (ASEF) Journalists' Seminar 2019 in Madrid, Spain (Fully-funded)
Deadline: September 16, 2019
The Asia-Europe Foundation (ASEF) welcomes applications for the 12th ASEF Journalists' Seminar (ASEFJS12), to be held on December 13-14, 2019 in Madrid, Spain. ASEFJS12 is a side event of the 14th ASEM Foreign Ministers' Meeting (ASEMFMM14).
ASEFJS12 is a training-oriented event that offers young journalists from Asia and Europe the chance to come together to share their professional media experiences and perspectives from national and regional levels. The event, themed 'Media Trust & Information in the Digital Age', is aimed at providing young journalists with the tools needed to thrive in an uncertain media climate.
The Asia-Europe Foundation (ASEF) promotes understanding, strengthens relationships and facilitates cooperation among the people, institutions and organisations of Asia and Europe. ASEF enhances dialogue, enables exchanges and encourages collaboration across the thematic areas of culture, education, governance, economy, sustainable development, public health and media.
Cost
Travels to and from Madrid, accommodation, and meals during the programme will be covered by the organisers.
Eligibility
Applicants must:
Be under 35 years old
Be a citizen of an ASEM Partner country
Be currently employed as a journalist or media professional (traditional media, online media, freelance are all eligible)
Have experience and/or projects on the topic of media trust, misinformation and disinformation
Application
For more information, visit 12th ASEF Journalists' Seminar.