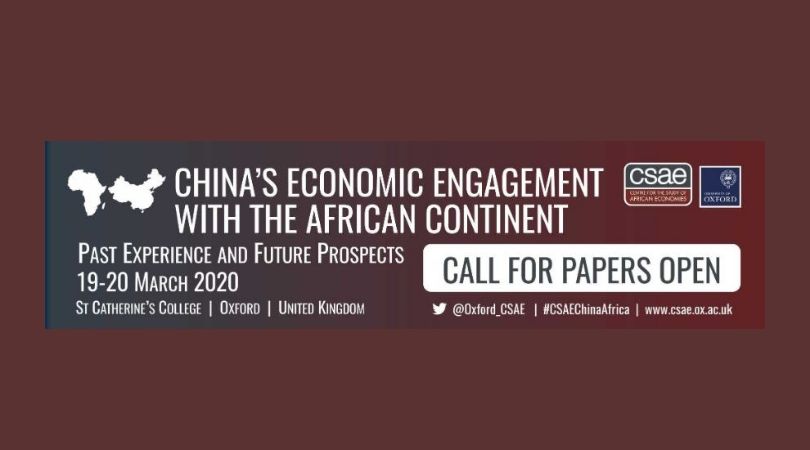 Call for Papers: University of Oxford Centre for the Study of African Economies (CSAE) Conference 2020
Deadline: October 25, 2019
Are you researching economic relationships between China and Africa? Submit your paper for consideration to the CSAE China's Economic Engagement with the African Continent Conference 2020.
The Centre for the Study of African Economies will hold its first-ever conference dedicated to China–Africa economic engagement. Empirical papers on the broad theme of China's economic, development and political economy relationships with the African continent are invited. Suitable topics include, but are not limited to: aid, trade, foreign direct investment, industrialisation, public debt, Belt and Road Initiative, environmental sustainability, governance, and institutions.
The Keynote speaker at the Conference will be Prof. Deborah Bräutigam (Johns Hopkins University SAIS-CARI). Alongside a keynote address and plenary panels, there will be parallel sessions where academics will present their empirical research. For these sessions, they will be looking for contributions on the broad theme of China's economic and development relationships with Africa.
Funding
There is a limited budget to fund African and Chinese presenters who are currently living and working in Africa or China, and who will be travelling from there to the conference in Oxford. If awarded, funding will cover flights, accommodation, and conference registration costs.
Eligibility
Open to scholars researching economic relationships between China and Africa
Pre-event in China
Depending on interest, the CSAE may organise a pre-event in China. If you would like to be considered for this event as well, let the organisers know. The submission deadline for this event is September 27, 2019, earlier than the main submission deadline, so make sure you submit your paper in time, in order to be considered.
Application
Submit your paper and abstract for consideration via email to [email protected] with the text "China–Africa conference submission" in the subject line.
Both papers and extended abstracts are accepted, but priority will be given to full drafts of papers. Please ensure your paper also includes a short abstract (up to 500 words).
Papers should be attached to a submission email that contains the following details:
Title of paper being submitted;
Up to three subject keywords – such as trade, BRI, political economy, aid;
Submitting author details (full name, address, email, and institution);
Indication if applying for travel funding;
Indication if want to be considered for possible pre-event in China;
Paper abstract (max 500 words).
For more information, visit CSAE Conference.