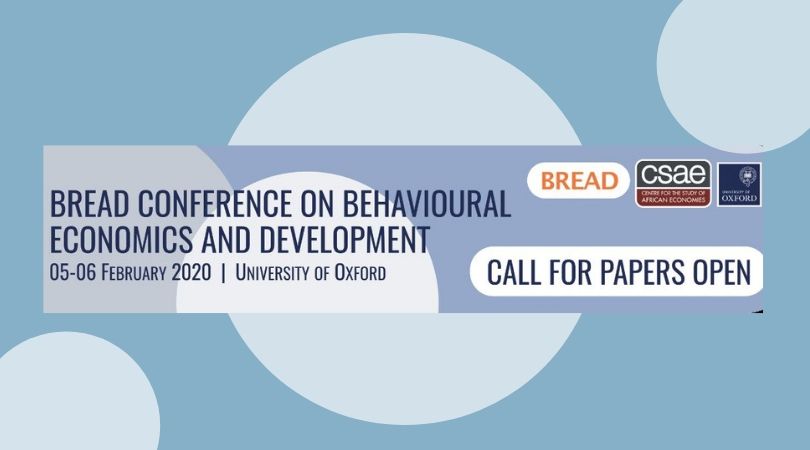 Call for Papers: BREAD Conference on Behavioural Economics and Development 2020
Deadline: September 20, 2019
The Bureau for Research and Economic Analysis of Development (BREAD) and the Mind and Behaviour Research Group at the Centre for the Study of African Economies (CSAE), University of Oxford, are pleased to announce a Conference on Behavioural Economics and Development that will be hosted at the University of Oxford from February 5-6, 2020.
The BREAD conference will be followed on February 7, by a one-day conference organized by the Mind & Behaviour Research Group, co-hosted by Stefan Dercon, Kate Orkin, and Alan Stein. This conference focuses specifically on the role of cognitive functions and mental health in economic decisions. The conference aims to facilitate new cross-disciplinary collaborations and will include invited presentations of experimental design and work in progress from economists, psychologists, psychiatrists and neuroscientists. All participants to the BREAD Conference are warmly invited to attend.
Funding
They will fund the travel and accommodation of one presenter per selceted paper. Travel and accommodation costs for up to 10 BREAD Fellows will also be covered by the conference on a first-come first-served basis. Non-BREAD members are welcome to attend.
Eligibility
They invite submissions from interested researchers on any topic at the intersection of Behavioural and Development Economics. While they welcome work on already studied topics such as time preference, risk, investment, and saving, they particularly encourage papers on under-studied applications of behavioural economics to development issues.
Example of possible topics include: preferences, cognition, and productivity under conditions of scarcity; formation of beliefs in low-information environments and their effects on behaviour; intra-household allocation in production and consumption; redistributive preferences and economic outcomes; behaviour in matching processes; culture, norms and trust.
Application
Submit your paper and abstract for consideration via email to [email protected] with the text "BREAD Oxford 2020 submission" in the subject line.
Only full-length paper submissions will be considered. Make sure your submission email includes the following information:
The title of the paper being submitted
The full name, address, email, and affiliation of the submitting author
The name and affiliation of the other authors
An abstract of the paper
Whether you plan to attend the Mind and Behaviour Conference on February 7
Do not forget to attach the PDF of the paper to your submission email. Your submission will not be considered without a paper.
For more information, visit BREAD Conference.