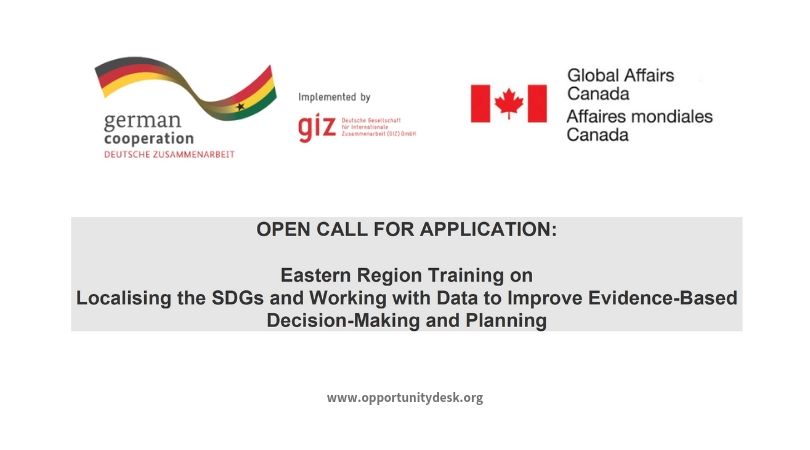 GIZ GmbH Eastern Region Training on Localising the SDGs and Working with Data 2019 in Ghana (Funded)
Deadline: September 6, 2019
The Deutsche Gesellschaft für Internationale Zusammenarbeit (GIZ) GmbH invites applications for the Eastern Region Training on Localising the SDGs and Working with Data to Improve Evidence-Based Decision-Making and Planning.
Are you a district official, a CSO or a Journalist and your work involves data and cross-cutting issues such as the SDGs, then this training is for you. Are you struggling working with excel, interpreting data, data collection and analysis, writing voluminous reporting and communicating well with data in the district, then this training is for you also, as you will meet people who share same troubles.
This training will focus on building the capacity of district officials, CSOs and Journalists to
Improve their awareness of the SDGs;
Enhance their skills in data collection and data capturing processes;
Use streamlined, easier and/or innovative tools and methods that make M&E and reporting more efficient, timely and of high quality;
Support efforts to make activities of an institution transparent and more accountable.
They promise to deliver activity-based learning by doing training approach complemented by games, movies, action learning exercises and practical work done by the trainees. Training manuals (ToT) and materials will also be made available to trainees. There will be lot of room for peer-peer learning exchanges, collaborations and interactions among trainers and trainees. The training is being conducted with partner support from NDPC, MLGRD, GSS, LGSS, OHLG and training contents reflect the demands and requirements of partner institutions.
Benefits
The training is free of charge. They cover travel and accommodation costs for those coming from outside the regional capital where the training is going to take place.
Eligibility
This training will be ideal for the following:
Relevant Staff of MMDAs (esp. District Planning Officers, District Environmental Protection Officers, District Water and Sanitation Officers, Statistical and Assistant Statistical Officers, Gender Desk Officers and Community and Social Welfare Officers etc.)
CSOs and Journalists
Application
You can apply by filling the form below. Thirty (30) participants will be selected for the training. The results will be announced on Tuesday, 10th September 2019. The training will take place in Koforidua from 16th to 20th September 2019. Certificates will be awarded at the end of the training.
Completed application form and any additional questions or enquires, should be sent to GIZ Advisor—Elizabeth Alampae Ayamga [email protected] 0556783522
For more information, visit GIZ GmbH Eastern Region Training.