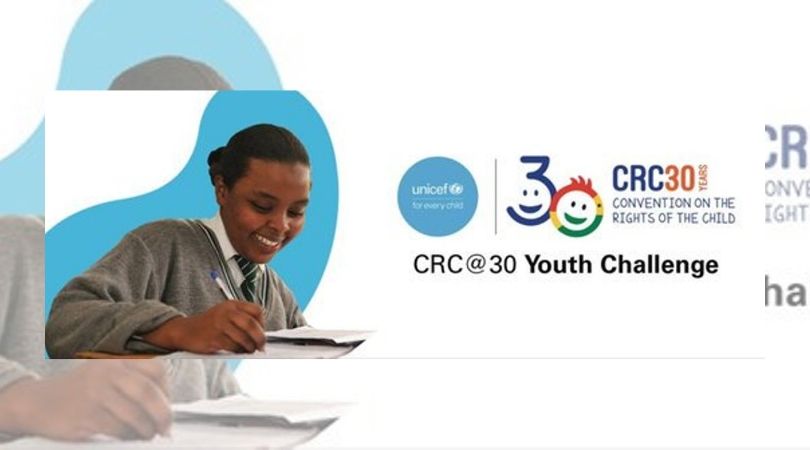 Deadline: October 26, 2019
Applications are open for the UNICEF Kenya [email protected] Youth Challenge 2019. Thirty years ago, world leaders made a historic commitment to the world's children by adopting the United Nations Convention on the Rights of the Child (CRC) – an international agreement on childhood. It has helped transform children's lives around the world.
However, not every child gets to enjoy a full childhood. It is up to our generation to demand that leaders from government, business and communities fulfil their commitments and act for child rights now. They must commit to making sure every child, has every right.
This year, as we mark the 30th anniversary of the CRC, UNICEF Kenya is asking children and young people to share their thoughts on how we can ensure children's rights are achieved.
Theme: Child Rights
What is the most important issue facing children in your community? For example: access to education, health care, water or sanitation. Malnutrition, disability or protection from violence and abuse. Please share a personal story on your chosen issue from your family or community. What do you think needs to be done?
Prizes
Winners in each category will be invited to travel to Nairobi and attend the national [email protected] celebrations on November 20, 2019. They will have an opportunity to present their ideas to Kenyan and international leaders from Government, UNICEF, development partners and civil society. UNICEF will cover transport, accommodation and meals for each participant and their guardian.
All winning entries will be published on the UNICEF Kenya website, national newspapers and promoted on social media.
Eligibility
Children and young people aged 14-18 can respond to any issues affecting child rights, using the medium of essay writing, art, photography or video.
Selection Criteria
A panel of judges from UNICEF Kenya and their media and NGO partners will review shortlisted entries in each category. A winner will be selected per category and an overall winner.
The winning submissions will be selected based on the following criteria:
Originality and creativity
Understanding of the issue and clarity of communication
Compelling personal story and call to action
Application
Entries should be submitted on Facebook or Messenger as direct messages to UNICEF Kenya. Please write no more than 600 words or attach up to four images or a video less than 2 minutes long.
For more information, visit [email protected] Youth Challenge.