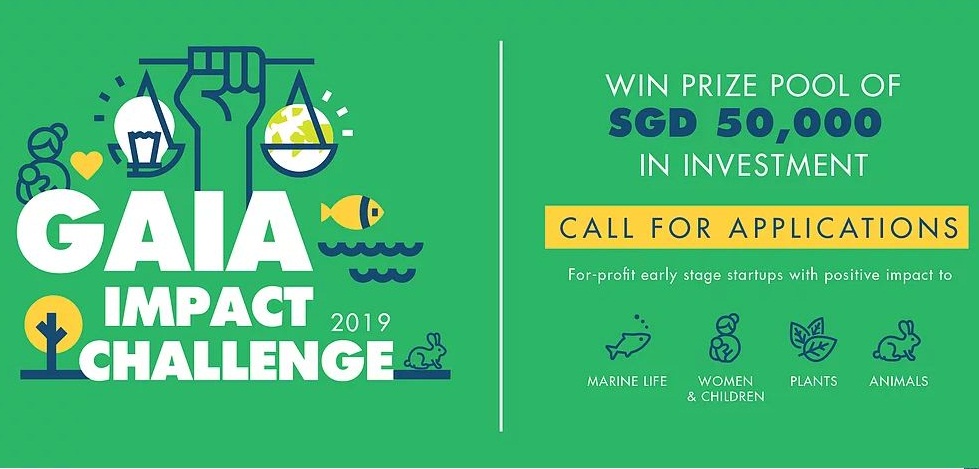 GAIA Impact Challenge (GIC) 2019 for Early-stage Startups (SGD 50,000 prize and more)
Deadline: November 11, 2019
Applications are open for the GAIA Impact Challenge (GIC) 2019. The GAIA Impact Challenge (GIC) is a global program powered by The Golden Space Global Capital with the mission to support and accelerate for-profit early stage innovative companies that have the purpose of positive impact to Mother Earth (Gaia) with focus on the betterment of Marine Life, Women & Children, Plants & Animals.
The Golden Space Global Capital, Pte Ltd is a private impact investment holding company that support positive, purposeful, transformative and profitable projects companies to grow in the world in order to create the new Golden Age that is full of love, light, balance and oneness on Earth & in full alignment with the mission of The Golden Space.
Benefits
Stand a chance to win the 5 M's
Money: SGD 50,000
Mentorship: Connection to experts
Market Access: The Global Space Network of 10+ Countries
Mass Global Exposure
Mindfulness: The Global Space Membership
Eligibility
Open to any for-profit, new or existing companies with the mission of giving positive impact to: Marine life, women & children, plants and animals.
Project can be at ideation, prototype (Product and/or Service) with some market validation, early invesment stage (Pre-Seed & Seed)
Applicants can come from any country but priorities will be given to the countries where The Golden Space® Centres are present: Singapore, Malaysia, Indonesia, Australia, Austria, UAE, Hong Kong, UK, USA
Companies does not have to be incorporated at the point of application
Companies who have not incorporated their business at the point of application and are in the process of applying or prototyping, a relevant official proof must be illustrated
The company should be incorporated and be registered at the point of fund disbursement
Evaluation Criteria
Compelling Social or Positive Impact Objective

Clear and Measurable Impact Objectives on any of these areas (Marine Life, Women & Children, Plants & Animals)

Sustainable Business Model

Strong and feasible busines model (strong value proposition, market size, clear monetization and profitability, competitor landscape, strategies to sustain the business).
Reasonable organization and operations capabilities.

Committed Team

Management Team able to demonstrate commitment to execute the plan.
Team members have relevant experience and expertise in the market/ industry and social needs.
Team possess strong mindset and heartset on result, social mission and ethics accountability.
Application
For more information, visit GAIA Impact Challenge.