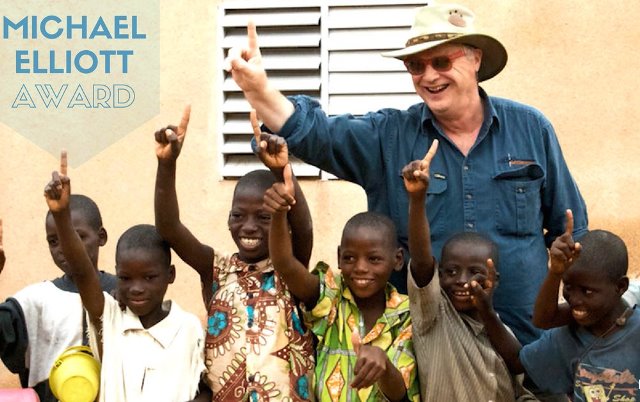 ICFJ Michael Elliott Award for Excellence in African Storytelling 2020 (US$5,000 cash prize)
Deadline: December 15, 2019
Applications for the ICFJ Michael Elliott Award for Excellence in African Storytelling 2020 are now open. This prestigious annual award honors an emerging journalist in Africa who strives to strengthen people's voices and illuminate the transformational change taking place on the continent. They are seeking a wide variety of topics, not limited to health and social issues, to demonstrate the creative approaches to pressing issues in Africa.
The Award was established in honor of Michael Elliott, an outstanding editor, philanthropist, and former ICFJ director, whose life was a testament to the power of storytelling to bear witness to and improve the human condition. Elliott served as a distinguished editor at The Economist, Newsweek and Time before becoming CEO of ONE. In 2016, he had spoken of his dream to establish an award that would bring together his belief in great journalism with his commitment to progress in Africa.
Award
The winner receives a US$5,000 cash prize.
In a special study tour organized by ICFJ, the winner will spend time in U.S. newsrooms in Washington, D.C. and New York City to learn new skills and share knowledge. The winner also completes a two-week internship in London at The Economist's headquarters in London, United Kingdom.
Eligibility
Open to English-speaking journalists working in Africa for print, broadcast and online news media. Applicants must have no more than 10 years of journalism experience.
Applicants must submit one published piece that uses top-notch reporting to capture stories of modern Africa. The submission can be a feature story; an in-depth, investigative or explanatory piece; or a multimedia report or documentary.
A copy of the published story or broadcast clip must be submitted in English. Works in other languages must include English translations.
The submitted story must have been published between December 1, 2018, and December 1, 2019.
A distinguished international jury selects the winner.
Application
For more information, visit Michael Elliott Award.