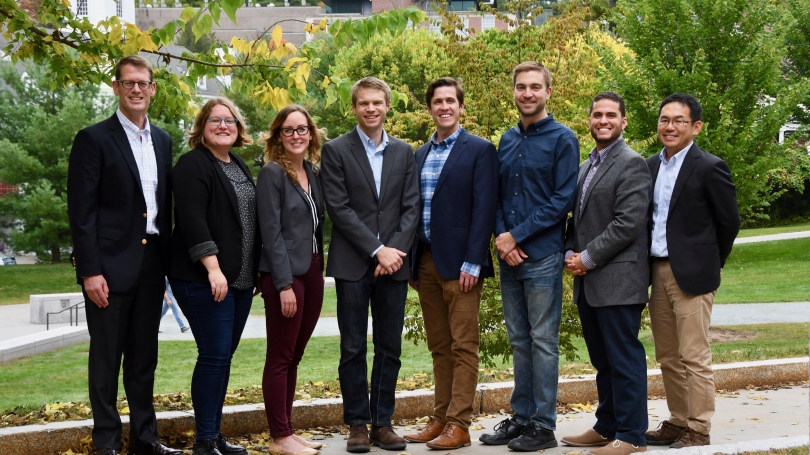 Dartmouth Post-doctoral Fellowship Program 2020/2021 in U.S. Foreign Policy and International Security
Deadline: January 3, 2020
The Dickey Center and the Office of the Dean of Faculty are pleased to announce the opening of application for the Dartmouth Post-doctoral fellowship program in U.S. foreign policy and international security 2020/2021.
The U.S. Foreign Policy and International Security Fellows are selected to spend a minimum of ten months and up to one year in-residence at Dartmouth on research and writing about international issues related to one of the Dickey Center's research areas: environment, health, human development, gender, and security.
U.S. Foreign Policy and International Security Fellows utilize their year at Dartmouth to maximize progress on their research, build contacts with other Fellows, Dartmouth faculty and with policy networks, and contribute to the intellectual life of the College.
All Fellows are assigned a faculty mentor with whom they meet on a regular basis. Faculty mentors are intended to provide professional advice for career building and integrating into the Dartmouth intellectual community as well as substantive expertise.
Duties
Fellows typically will:
Give a faculty seminar on the work discussed in the Dickey Center's seminar series on international politics and foreign policy
Present work in the departments of Government, History, and in other seminar series at the College
Participate with other Fellows in an undergraduate course, taught with a Dartmouth faculty member.  Fellows also often make guest appearances in other classes,  and interact with undergraduate students in Dickey Center student groups or other organization as interest warrants
Participate in events for Fellows organized throughout the year – topics will be determined on the basis of mutual interest and perceived need
Benefits
Fellows are provided with an office and access to Dartmouth faculty and resources. They must be in-residence during their fellowship and participate in Dickey Center seminars and events.
Eligibility
Applicants from all disciplines working on research that bears directly on U.S. foreign policy and international security are welcome to apply.
While scholars at all stages of their careers will be considered, applications from recent recipients of a PhD or equivalent degree are especially welcomed. 
Application
For more information, visit Dartmouth Post-doctoral Fellowship.