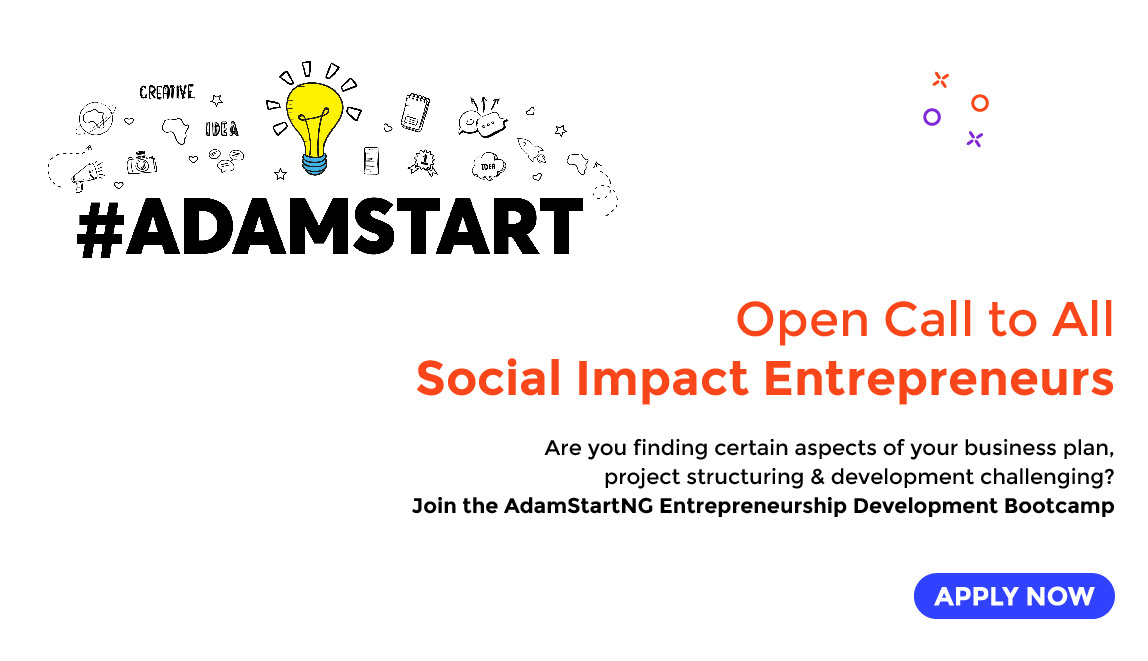 Call for Applications: AdamStartNG Enterprise Bootcamp 2020 for Social Impact Entrepreneurs in Nigeria
Deadline: January 30, 2020
The AdamStartNG Enterprise Bootcamp Nigeria 2020 is open for applications. AdamStart is an international platform setup by Queens Young Leader, Board Member of the Queen's Commonwealth Trust and social-entrepreneur Mr. Adam Bradford. Mr. Bradford is an English social activist, BBC media personality, entrepreneur and business adviser. He has acted as an adviser to young entrepreneurs internationally and worked to develop entrepreneurship initiatives in the United Kingdom.
The AdamStart project is one of Bradford's flagship programs to help young entrepreneurs scale their ideas. Currently in its 10th year, the project has reached over 10,000 young leaders across 130+ countries. The project received a face lift three years ago when it was revamped into an international challenge, the competition received thousands of applicants across over 80+ countries, with the majority of the applicants originating from Caribbean and African regions. The year, the team has decided to pay more attention to these regions.
AdamStartNG Entrepreneurship Development Bootcamp is a multi full day series of on-line and in-person business and leadership trainings designed to impact 300 young business leaders and entry level young professionals in Nigeria across four cities in its pilot phase.
These cities include:
Lagos
Abuja
Cross River
Owerri
Training sessions include:
Identifying market gaps and customer needs;
Creative business idea development;
Market and customer research; and
Marketing.
Training is provided in English language onsite in partnership with youth centers; business/innovation/creative hubs and enterprise development schools. The project aims to build cohesion between entrepreneurs who have brilliant ideas and the local community through entrepreneurial ventures that contribute not just to the local economy but helps in solving one or multiple sustainable development goals.
Benefits
Start-ups will be offered;
Free access to our Intensive 2 days incubation program
Certificate of completion
1 year of mentorship support
Legal support
Local & international media package – distribution through Press Association and PR Wire, and photo and business name alongside #AdamStart shown on the billboards at NYC in Times Square – in partnership with Thomson Reuters. (T&C's apply)
Visit from Adam Bradford & Project Officer from London to provide in-country support
Access to the AdamStart global network
Financial support (on a need base) to scale-up.
Eligibility
Participants will include an array of young entrepreneurs with business already in the first year of operations across multiple sectors (preference will be given to individuals whose business solves a problem – social impact entrepreneurs.)
To be eligible:
Must be aged between 18 – 29.
Have a social venture, not-for-profit or for-profit.
Must be a Nigerian citizen or a legal resident in Nigeria.
Must Be an entry level young professional.
Must have a desire to proactively grow personally, academically and professionally
Must posses a high degree of self-motivation, drive, and willingness to learn, try new approaches and drive resolution of issues.
Must have a deep sense of cultural commitment to the development of Africa and its people.
Have a positive and proactive approach to building relationships.
Committed to growing your work and impact now and in the future
Speak and write English proficiently.
Able to travel to the bootcamp venue closest to you (self funded) during that entire duration of the project.
Participate during the entire bootcamp (no exceptions)
Criteria
Idea must be an original, innovative idea
The idea should be in early stage of startup, with a minimum of one year track record (with proof)
Clear plans for social impact if relevant.
Business idea must not incite civil unrest or be of reputational or legal risk to the promoters.
A Skype interview with 40 shortlisted applicants will be conducted to find out more about them and build a bigger picture of their personal context and their reasons for applying.
Full notes from the interview will be submitted to an independent jury who will select the most qualified entrepreneurs and young professionals to attend the bootcamp.
Application
For more information, visit AdamStart.