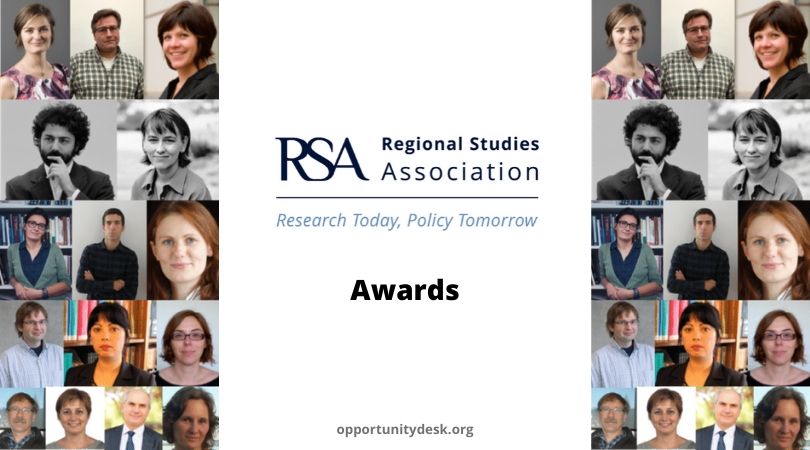 Regional Studies Association (RSA) Awards 2020
Deadline: April 30, 2020
Nominations are invited for the Regional Studies Association (RSA) Awards 2020. The Regional Studies Association works with its international and interdisciplinary membership to facilitate the highest standards of theoretical development, empirical analysis and policy debate of issues at this sub-national scale, incorporating both the urban and rural and different conceptions of space such as city-regions and interstitial spaces.
Both self-nominations and third-party nominations of current members are being sought for the following awards in regional studies and related fields:
Nathaniel Lichfield Award – this award is for recent Masters graduate who has graduated within the previous year;
RSA PhD Student Award – this award is for registered PhD students who have not yet received their certificate;
RSA Routledge Early Career Award – this award is for early career researchers defined as being within five years of the date on their PhD certificate or equivalent.
Benefits
The prize for each Award is:
A cheque for £500;
A certificate;
A complimentary registration at the 2020 RSA President's Event;
Up to £200 discretionary fund toward attending the 2020 RSA President's Event (transport costs).
Eligibility
The nominees are expected to have made an original and outstanding contribution to the field of regional studies.
To be eligible for nomination, the recipient should be clearly identified as having made a leading personal contribution.
Nominations should include a fully referenced piece of work in English, which fits the research interests of the Association.
Application
Please submit the nomination and a fully referenced piece of work in English via email to Klara Sobekova.
For more information, visit RSA Awards.