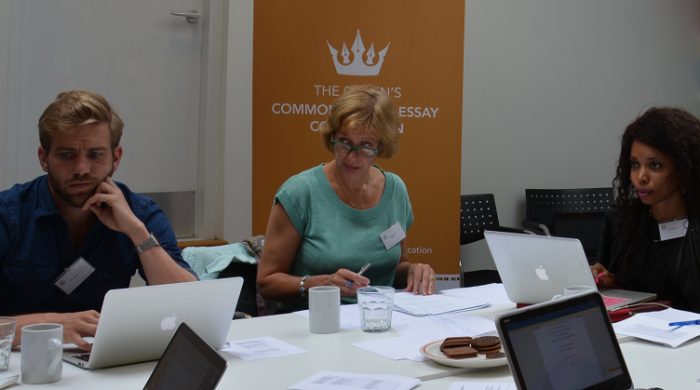 Apply to become a Judge of The Queen's Commonwealth Essay Competition 2020
Deadline: April 22, 2020
Application are accepted to be a Judge of The Queen's Commonwealth Essay Competition 2020. Would you like to become a Judge of The Queen's Commonwealth Essay Competition 2020? Now's your chance!
Each year, The Queen's Commonwealth Essay Competition receives thousands of entries from across the Commonwealth and relies on a team of volunteers to read and judge them. One of the greatest strengths of this Competition is that each young person's writing is individually read and appreciated by an adult somewhere in the Commonwealth, who might otherwise never hear their experience.
Judges come from a wide variety of backgrounds and offer a diverse range of skills and experience. All judges share the Society's commitment to nurturing the creative talents of young people and wish to actively participate in increasing youth dialogue in the Commonwealth. They may also have a particular interest in the theme, the English language, creative writing or youth work. The Royal Commonwealth Society is grateful for the time, dedication and expertise of these judges, without whom it would not be possible to run such a successful and unique competition.
The QCEC is not an exam with entrants expected to meet a number of specific requirements; rather, it is an opportunity for creativity and high quality discursive writing.
Benefits
In return for their time, judges have the satisfaction of making a vital contribution to an important pan-Commonwealth youth programme. This is an opportunity to read written pieces from students from across the Commonwealth and gain unrivalled experience and skills. In addition to this, all judges receive a personalised certificate of recognition of their participation, subscription to the e-newsletter, and invitations to select RCS events.
Eligibility
To be eligible for the role, you should:
be over 18 years old
have an interest in the Commonwealth and/or international affairs
have an active interest in writing and/or literature
be available for a total of 30-35 hours between Monday 6th July – Monday 17th August (6 weeks), in order to read and judge approximately 100 scripts
have reliable access to a computer and internet in this period
Application
If you are interested in the role, please download and complete the application form and return to [email protected] by 9am BST Wednesday 22nd April 2020.
Click here to download the form.
For more information, visit Queen's Commonwealth Essay.