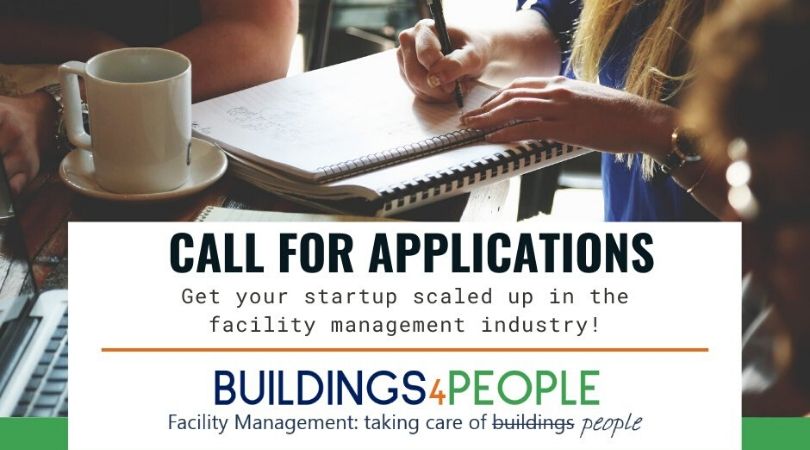 Buildings4People Open Innovation Initiative 2020 for Mature Startups
Deadline: April 24, 2020
Bridge for Billions is accepting applications for the Buildings4People Open Innovation Initiative 2020. Buildings4People is a program that aims to find startups that can help Facility Management Innovators to solve critical challenges across all business areas and functions, like cleaning, energy management, food services, workforce inclusion and diversity, maintenance, and security and access control of the new workplace.
Do you have the next big solution in the security and access control sector? Join the Buildings4People program and get the support to take your solution global. Submit your application today!
Buildings4People is the first collective open innovation initiative in the facility management industry directed towards startups from all over the world and promoted by the Global Alliance of Facility Management Innovators. Informally, they call their members "FM Innovators".
They are looking for startups in an advanced maturity state with validated solutions which are new inventions, or spin-offs from other industries, and are applicable to the FM sector. They offer a Corporate Pilot Program to fine-tune promising solutions and a Fast-Track Program for solutions that are ready to be marketed. Their goal is to fine-tune promising solutions from any industry and promote them in the Facility Management sector.
Challenges
Mature startups from all over the world are invited to apply to one of the challenges.
Cleaning
Maintenance
Inclusion & Diversity
Food Service
Workplace & Facility Management
Energy & Sustainability
Security & Access control
Benefits
No -fuss-selection: Go through a quick selection process for validated and active startups, run by expert facility management professionals and renowned faces of the ecosystem.
"Raw" solutions – FM Innovation Fair: Present your actual product/solution at our Facility Management Innovation Fair. Draw the attention of both FM Innovators as their corporate clients – and enter our Pilot Program.
Run a pilot at top corporations: Top corporations select the winners, who will run a pilot in an environment of big buildings and large workforces.
Quick process for fast-trackers: Maybe you have a ready-to-go solution that can be implemented with little or no adaptation? You're a fast-tracker and you're very welcome!
They are eager to adopt your solution: Fine-tune your solution to develop a commercial product that FM Innovators are eager to adopt for their own use or to be marketed to their clients.
Scale-up internationally: Get your product promoted through the Global Alliance of Facility Management Innovators and scale-up internationally.
Long-term commercial relationships: Build long-term commercial partnerships in an industry facing digital transformation as per this very moment.
Eligibility
In order to apply your startup must:
Be a mature/post-revenue-stage company with a tested solution in the market;
Looking to scale and grow your existing business;
Have a consolidated team;
Be ready to scale your offer to facility management industry corporations with little or no adaption;
Address at least one of the referred challenges for the Facility Management Industry: Cleaning, Maintenance, Energy & Sustainability, Security & Access Control, Food Services, Inclusion & Diversity, and/or Workplace & Facility Management;
Application
Candidates must only submit the requested info asked for in the application form regarding their startup and the solution(s) they propose for the challenge(s) chosen.
In case the startup wishes to apply to more than one challenge, it must identify in the application form all challenges that may apply.
Only one application per startup is needed.
Startups can only register through the Buildings4People website.
Application timelines
February 24: Launch of Challenges.
April 24: Deadline of application.
April 30: Finalists notified.
May 14: Induction day.
May 21: Winners announced.
June 01: Start of Pilot development.
For more information, visit Buildings4People.