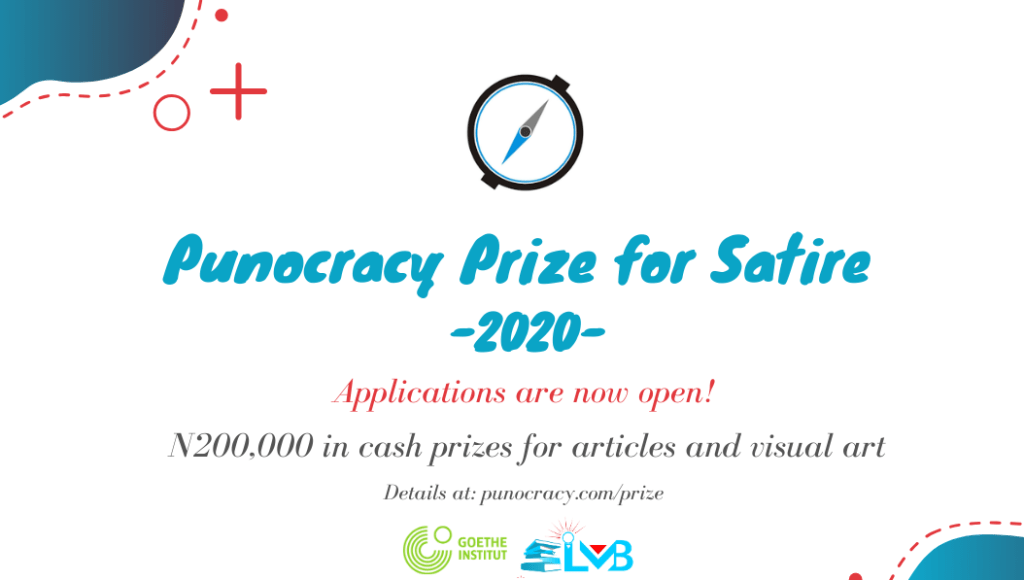 Punocracy Prize for Satire 2020 for Nigerians (N200,000 in cash prizes)
Deadline: July 19, 2020
Entries are invited for the Punocracy Prize for Satire 2020. Punocracy is a community of young writers of satire in Nigeria that was launched in March 2018 to encourage free speech, promote critical thinking, and spread political consciousness.
Their objective is to make satire a widely accepted and understood tool of socio-political commentary in the country and to kindle the fire of interest in the genre. In short, they are on a mission to improve satirical literacy and create a safe space for writers and lovers of satire.
In further advancing these goals, they are seeking entries for the second edition of the Prize for Satire, the winners of which will be getting cash prizes of up to N200,000. They believe other forms of writing, from poetry to non-fiction, have received great attention and it is high time they equally spotlit the significance of satirising in opinion-shaping and nation-building. There is hardly a better way to do this than through a healthy rivalry.
Prizes
First place (Literature): N70,000, books, and certificate.
First place (Visual art): N50,000, books, and certificate.
Second place (Literature): N50,000, books, and certificate.
Third place (Literature): N30,000, books, and certificate.
Eligibility
Applicants should be Nigerians
Aged between 15 and 30 years as of July 19, 2020.
Only one entry is allowed per person.
Also, the entry must:
Be written in English and saved in a .doc format (for articles) and .pdf (for cartoons).
Be anything between 300 and 1500 words (for articles).
Not be plagiarised in part or in whole.
Not be jointly authored or created.
Not have been previously published.
Most importantly, be satirical.
Application
Judges are looking for great works of satire that creatively deploy wit, irony, sarcasm, exaggeration, and/or ridicule in criticising faults. Entries that do not meet these expectations are automatically disqualified.
All submissions that make it to the longlist will be published on Punocracy's website, after which a shortlist of no more than 20 entries will be announced latest in October. Overall winners will be awarded during the World Satire Day celebration the following month.
For more information, visit Punocracy Prize for Satire.