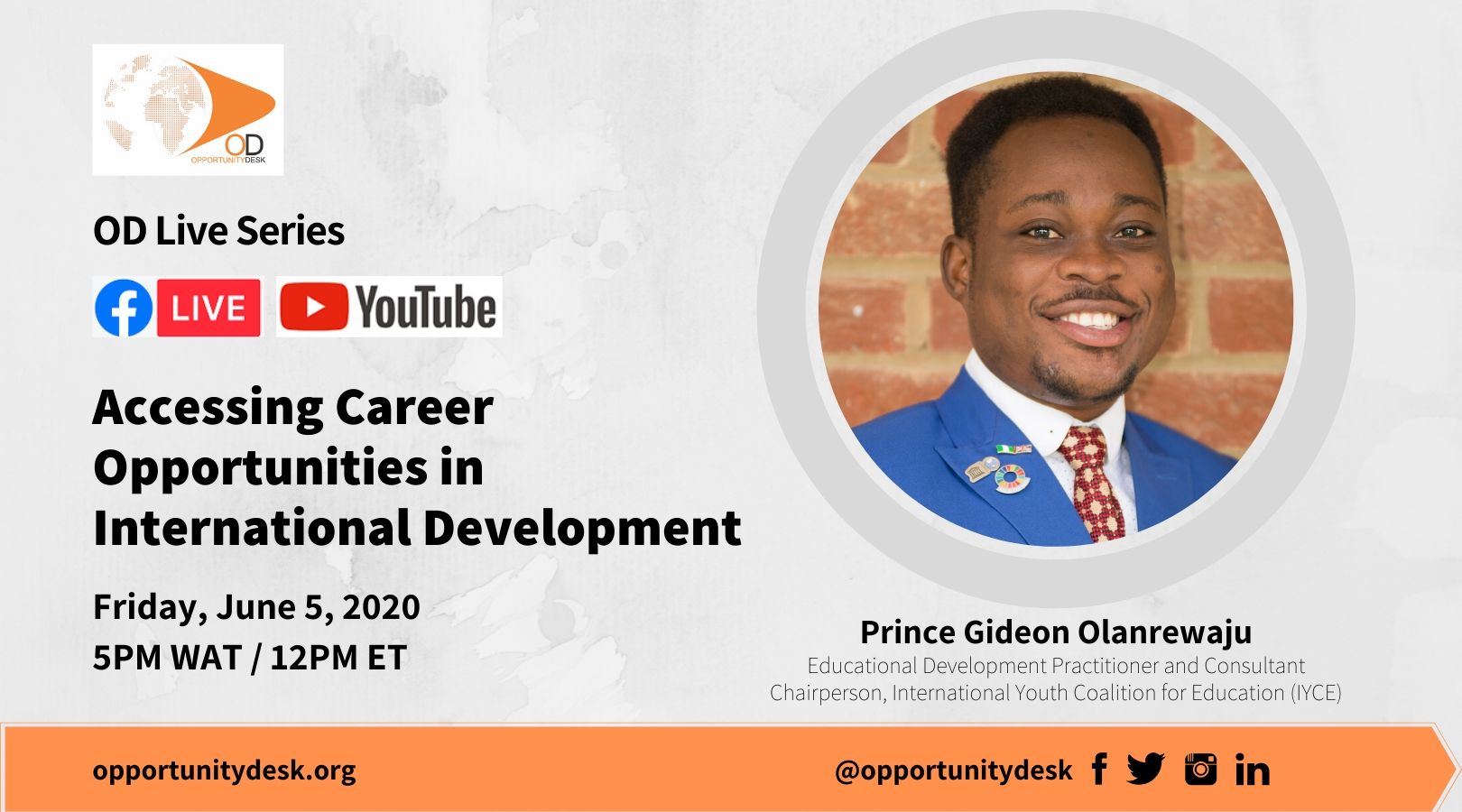 Accessing Career Opportunities in International Development: OD Live with Prince Gideon Olanrewaju – June 5, 2020
OD Live with Prince Gideon Olanrewaju: Accessing Career Opportunities in International Development – June 5, 2020
There are a wide range of opportunities available in international development. Some of these require thematic specialization while others require deeper understanding of both poverty and inequalities. Prince Gideon Olarenwaju will show you how to access high paying jobs, paid internships and volunteering roles in international development across the world.
The #ODLive series is part of our efforts to empower our users with the right knowledge and tips they need to grow and succeed in their businesses, projects, and applications for global opportunities.
---
About the Speaker: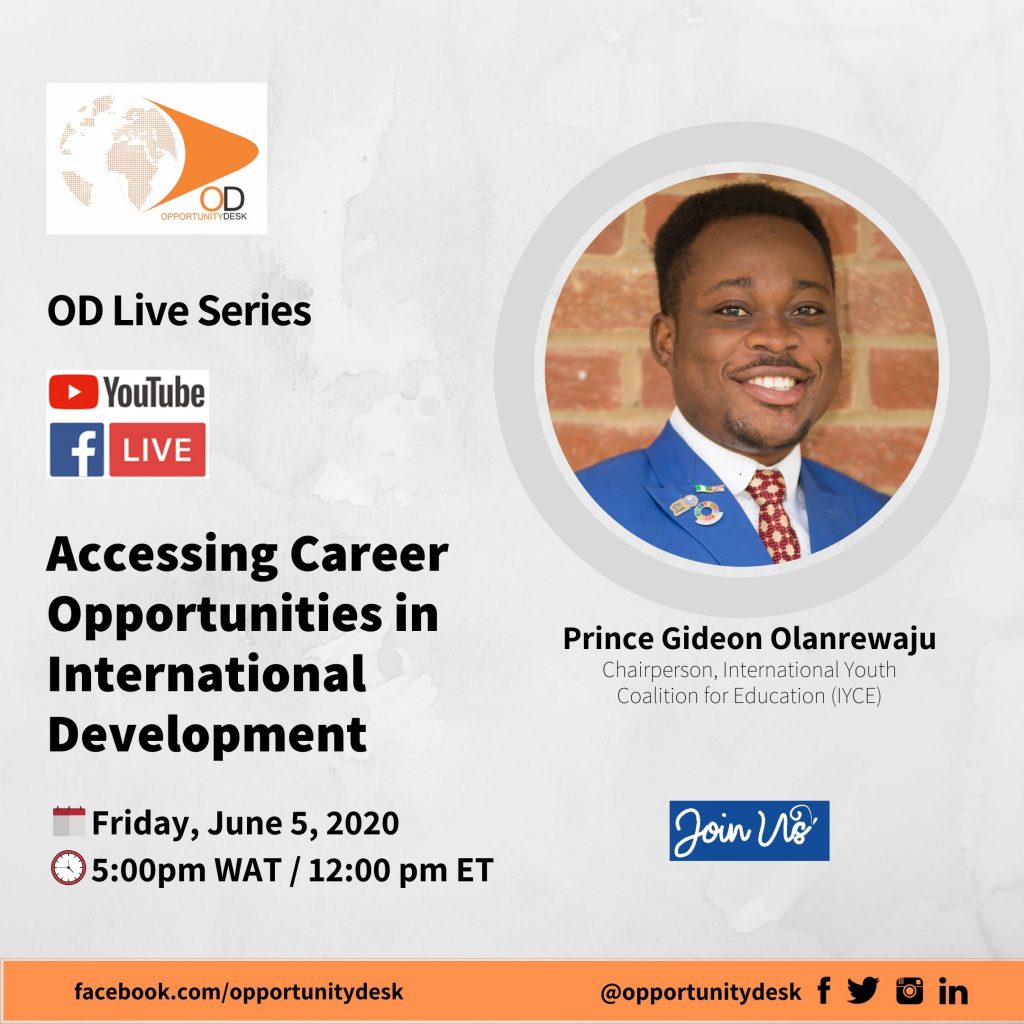 Named by Zenith Bank Plc as one of the Nigeria's 2019 "Heroes of Our Time" and as one of 100 Most Influential Young Nigerians in 2019, Gideon Olanrewaju is a leading Educational Development Practitioner and Development Consultant with 6 years of transnational experience leading and working with diverse teams in Canada, Nigeria, South Africa and the United Kingdom to promote quality education for disadvantaged populations. Currently, he serves as the Chairperson of the International Youth Coalition for Education (IYCE) and the Chief Executive Director of Aid for Rural Education Access Initiative (AREAi). In both capacities, he has championed the design and delivery of successful interventions that has ensured access and bridged gaps between learning and employ-ability for over 16000 disadvantaged children across communities in Nigeria. 
His outstanding leadership accomplishments have earned him global accolades having been recognized as a 2019 One Young World Ambassador, 2019 Deloitte Scholar, 2018 UNESCO Young Leader in Africa and 2015 YALITechCamp South Africa Alumnus. Gideon has represented Nigeria at, and contributed to, several high-level consultations including the 2019 Global Education and Skills Forum Dubai, 2018 UNESCO NGO Forum Moscow, 2018 Education World Forum London, 2017 UNESCO NGO Forum Riyadh to mention a few. 
In 2018, Gideon was appointed by UN Special Envoy Gordon Brown's Theirworld as its Youth Representative to the United Nations General Assembly (UNGA) where he spoke and presented a Global Youth Declaration to world leaders and over 116 leaders of global educational agencies. In 2019, Gideon was invited by the Duke and Duchess of Sussex, Prince Harry and Megan Markle, alongside 9 other young leaders from across the world to Windsor Castle in the United kingdom for a roundtable discussion on girls education and gender equality. 
Gideon holds a Bachelors in Biochemistry from Ladoke Akintola University and a Masters in International Education and Development from University of Sussex, UK as a recipient of the prestigious UK Chevening Scholarship. He also holds executive leadership and facilitation certificates from Cambridge University Institute of Sustainability Leadership, African Leadership Academy, UN Office in Switzerland and LEAP Africa Leadership Academy.  He's pursuing his Doctoral Studies in Educational studies at McGill University, Montreal, Canada. 
---
Event Details
Topic: Accessing Career Opportunities in International Development
Speaker: Prince Gideon Olanrewaju
Date: Tuesday, 5th June 2020
Time: 5:00pm WAT / 12:00pm ET / 4:00pm GMT
How to Join the Livestream
No registration required, just click the link below and show up!
Join via Opportunity Desk's Facebook Livestream or YouTube Channel.
---
About Opportunity Desk
Established in 2012, Opportunity Desk (OD) is the largest digital media platform that bridges the gap to education by sharing information on relevant learning and growth opportunities for youth around the world. These opportunities help to facilitate young people's efforts in exchanging ideas and preparing themselves for the future.
Follow OD to stay up to date:
Facebook
YouTube
Twitter
Instagram
LinkedIn Page
Telegram Channel
Telegram Group
It's going to be amazing!
Watch past OD Live sessions here.