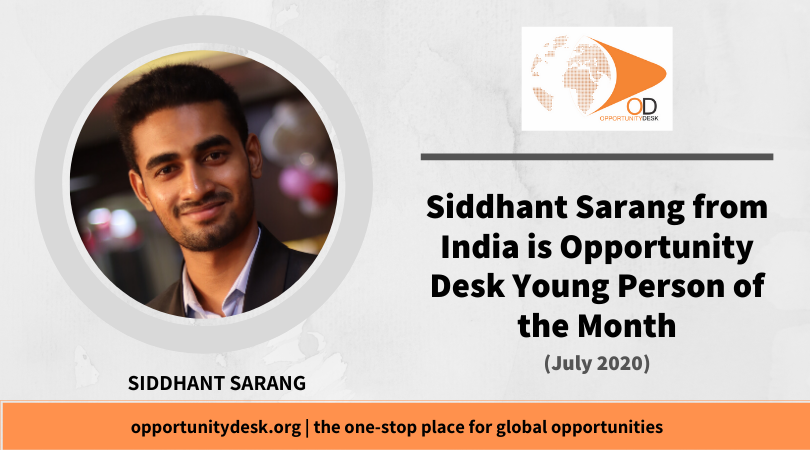 Siddhant Sarang from India is OD Young Person of the Month for July 2020!
Welcome to July!
Our Young Person of the Month is Siddhant Sarang from India! Siddhant Sarang is a climate activist and the founder of a youth-led organization, 'Youth Frontliners', committed to educate, rehabilitate, and empower youth to speak up and take direct action against climate change. He is a 2019 Diana Award recipient.
Read his story below and be inspired!
SIDDHANT SARANG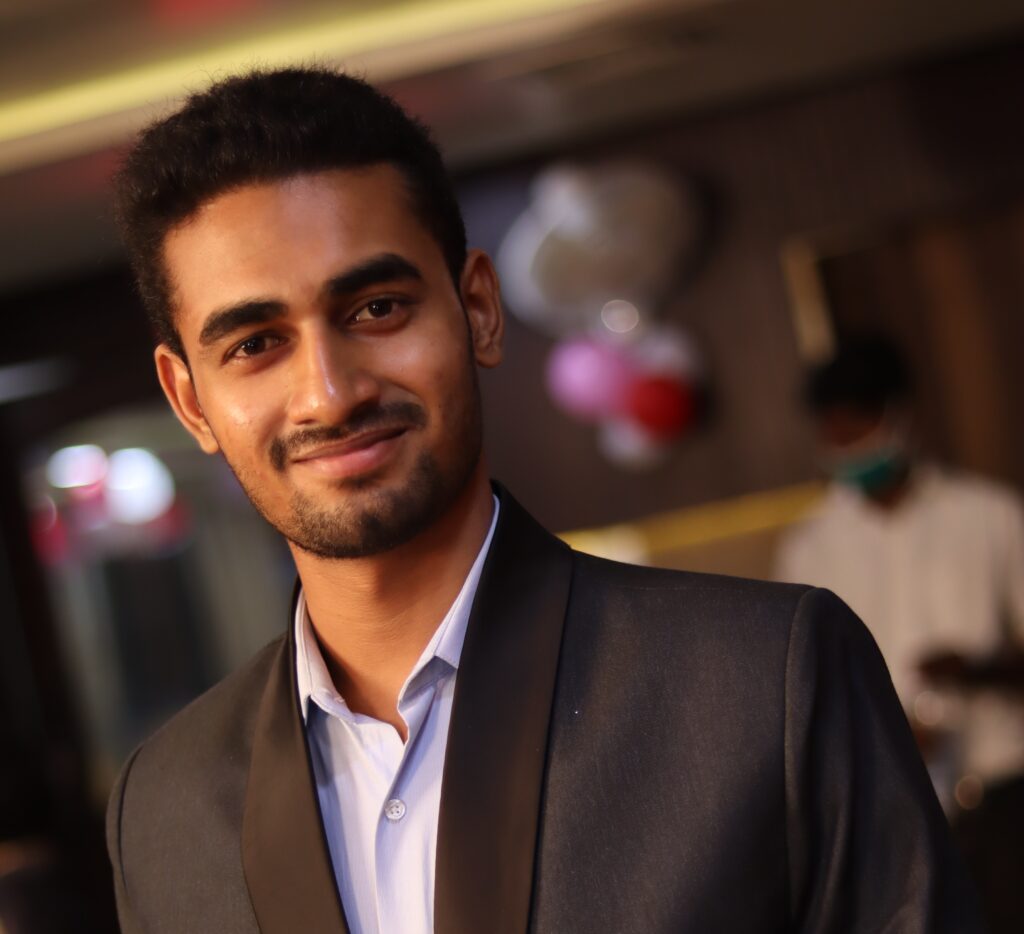 Siddhant Sarang is a climate activist and the founder of a youth-led organization, 'Youth Frontliners', committed to educate, rehabilitate, and empower youth to speak up and take direct action against climate change.
His motivation and life in social service began in 2008. He had accompanied a disaster management team led by his father for carrying out relief work during the devastating 2008 Bihar Flood that caused mayhem, and remains as one of the most disastrous floods in the history of the Bihar state in India. After returning from the trip, he began learning about climate change and later founded a youth-led organization, Youth Frontliners, with his classmates, to address the environmental concerns. That was in 2014 when he was in class 7 and at the age of 14 years.
During this discourse, he also started a monthly journal named 'Nature Lifeline' with the purpose of raising awareness and garner support dedicated to the environment. Besides advocating for climate change, Siddhant has also generated awareness against some dreaded diseases amongst masses as per the guidance of the World Health Organization and he has raised substantial donations for cancer patients in India with Cancer Aid Society. The apathy of the government towards these issues, he says, attracted him to do the needful for the cases.
According to Siddhant, the government of India has failed its people in many areas, beginning with environmental issues, to gender equality, to education, among many others. Siddhant therefore writes Op-Ed articles about these issues in newspapers, and websites including Navbharat Times Reader's Blog, India Water Portal, Deshbandhu and NewsD, etc.
Siddhant Sarang made a short documentary film named 'She Tells Story' that narrates about the problems faced by teenage girls who live near the embankment of the river Gudhi Gandak, cut from the mainstream urban world with no road leading to the city.
On His Wins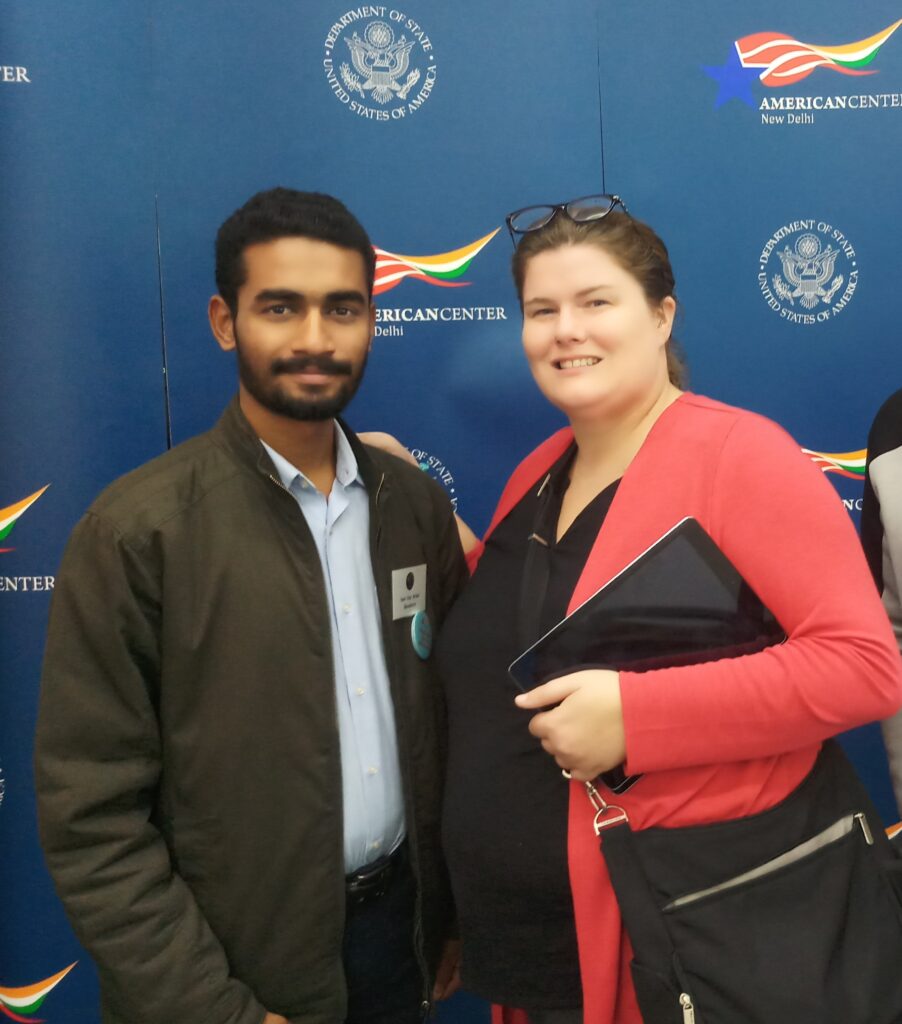 Because of his amazing work, Siddhant Sarang has been recognized by The Diana Award in 2019 in the name of Princess of Wales Diana, for his selfless services towards the society. In October 2019, he won the Queen's Commonwealth Commonwealth Trust Scholarship which gave him the opportunity to attend One Young World Summit in London, UK.
Siddhant has also written letter a to India's Minister of Foreign Affairs Dr. S Jaishankar to airlift Pakistani students from China and send them back to Pakistan as a gesture of peace and humanity. This was when COVID-19 broke out, and the government had refused to airlift Pakistani students from Wuhan.
He also wrote a letter to the Hon'ble Supreme Court of India to take 'Suo moto cognizance' when a gas and oil plant caught fire in Assam in a National Park killing many endangered wildlife creatures.
On His Future Plans
Siddhant's long-term goal is to reach out to 1 million students and young people up to the age of 18 years before 2021, to train them about environmental problems, causes, and the solutions an individual can take at a small level to solve a massive issue.
His project wants to use the asset of young people to turn them into Climate Champions. To fast-track this movement, they are also in the process of appointing Country Ambassadors to Youth Frontliners from each country to work on their behalf in their nation and propagate their message to save the environment.
On Obstacles He Faced
When Siddhant began his conservation program, the school director, he says, convinced Siddhant's classmates not to work with him. He felt insulted when his efforts in saving the climate was not considered a child's work. They said, children should instead be doing their studies. His parents however stood by his side. He however had to transfer to another school at the age of 15 years.
His Words of Advice to the Youth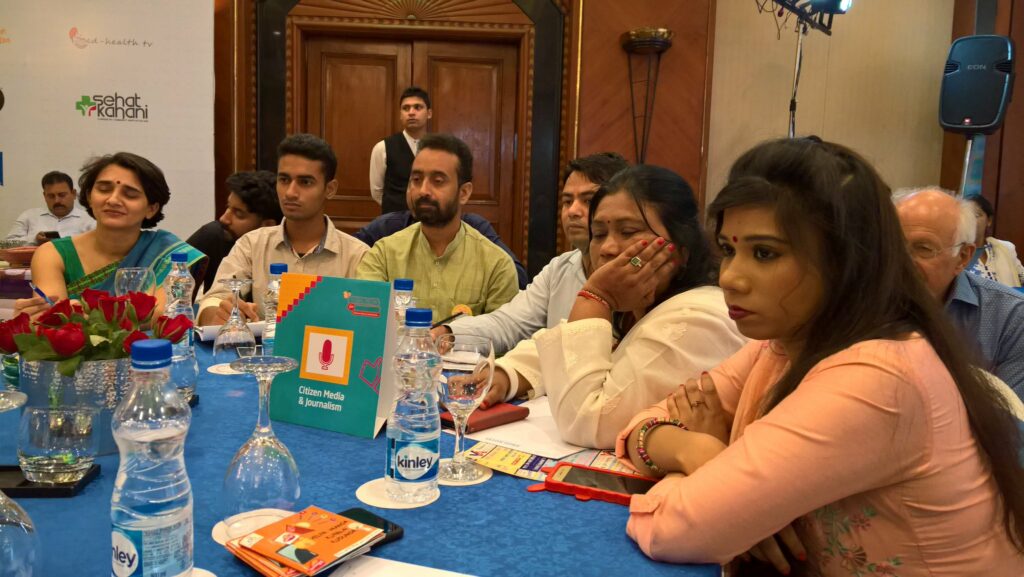 "Negative experiences are part of the human experience. It is good to accept them and learn from them. You may not have control over a bad situation, but you can adopt a positive mental attitude to overcome the negative. "
You can connect with Siddhant on Facebook, Twitter, Instagram and LinkedIn!
Who will be the Next Young Person of the Month?
You can be the next Opportunity Desk Young Person of the Month! All you have to do is get a friend to recommend your work or fill out the nomination form here. We want to use the platform to recognize and celebrate the efforts of amazing young people around the world. Oh! And you must be an active Opportunity Desk member, either as a fan, reader or subscriber!
Join Opportunity Desk on Facebook (192.3k+), Twitter (43.1k+), Instagram (52.1k+), FB Group (76.4k+) or join 84k+ Email Subscribers