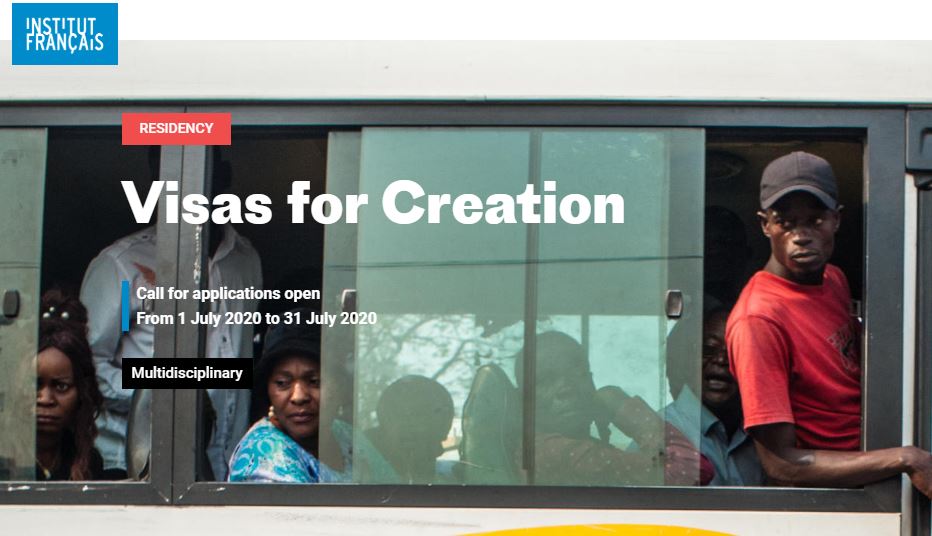 Institut Français Visas for Creation Programme 2020 for Artists and Curators in Africa and the Caribbean Islands
Deadline: July 31, 2020
Applications are open for the Institut Français Visas for Creation Program 2020. Visas for Creation is part of the Africa and Caribbean cultural cooperation mission. This programme supports artistic emergence in Africa and in the Caribbean through residencies in mainland France and in its overseas territories.
Visas for creation support 2-month residencies that will allow recipients to expand their professional networks and encourage collaborations with the french cultural operators. Artists and curators must have already found a partner organization for which they apply to Visas for Creation.
The residency must happen within a professional organization such as: the National Choreographic Centre, the National Centre for Choreographic Development, the National Stage, national drama centres, art centres, contemporary music centres, etc.; or a partner institution of the Institut français; or one that is linked to a residency programme in a local authority.
Benefits
The program allows recipients to develop a creative or research project and to benefit from airfare coverage, a living allowance of €1,000 per month and repatriation insurance.
Eligibility
Open to African artists or curators living in Africa or in the Indianoceanic region and Caribbean artists or curators living in the Caribbean islands only (not admissible: french overseas regions and departments).
The artist or curator must:

Already be active in his/her professional life;
Be free of any professional obligations throughout his/her residency period;
Not having applied for other current Institut français programs;
Find a partner organisation that is able to provide technical and artistic support and cover accommodation.
Application
Complete the online form using the following information:
Project holder: informations about the artist or curator.
Description of the project: title of the project, brief presentation of the residency project, objectives and expected results, period of the residency.
Partnerships: informations on possible contacts and partnerships established with French and/or foreign artists and/or professionals.
Documents to be submitted with the application form:
A specific project for the residency;
A resume;
A signed statement ensuring that the works to be presented are by the applicant;
A commitment letter from the associated residency welcoming you.
For more information, visit Institut Français Visas for Creation.