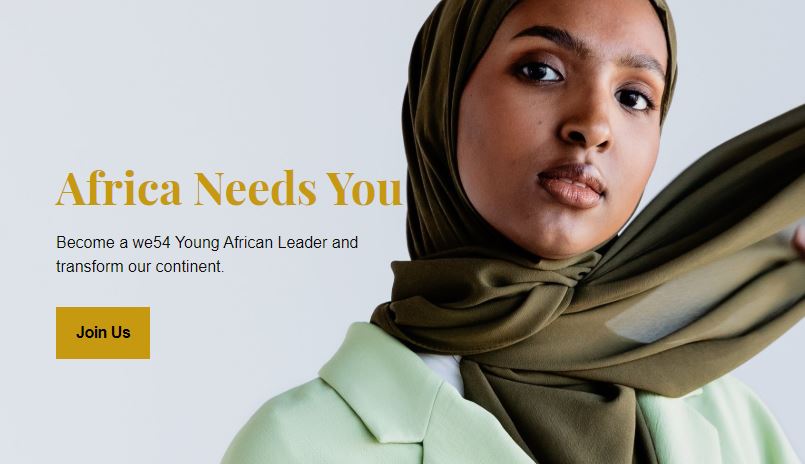 Apply to Become a we54 Young African Leader
Deadline: July 31, 2020
Applications are open for young people who are interested to become a we54 Young African Leader. we54 seeks to engage vibrant and proactive young leaders from across all 54 African nations, with an aim to encourage widespread participation in our diverse projects that address the SDGs.
They are looking for inspiring and innovative minds that are ready to contribute their ideas, skills and abilities towards transforming their communities and the rest of Africa. By joining we54 you become part of a diversely rich network made up of innovative and driven young African leaders such as yourself. You can connect and collaborate across different we54 projects and campaigns, sharing ideas, exchanging knowledge and impacting your communities together. 
Benefits
Become part of the we54 Young African Leaders network;
Gain access to contribute to all current and future we54 projects and campaigns;
Connect and collaborate with other young African leaders from across the continent;
The opportunity to have your ideas and innovations realized;
Have an active role in transforming Africa through dynamic action in real-time;
Develop your organizational skills and gain real-life experience on current issues.
Eligibility
Applicants for the program
Must be between 18-30 years old;
Must be a national of one of the 54 African nations;
Must be passionate about the SDGs and transforming Africa;
Must be available to contribute their skills and time towards we54's diverse projects;
Must possess good organizational skills and be able to work independently;
Must possess good communication skills (Country-specific local languages highly valued);
Must have an active email and social media (Instagram) account.
How to participate
Join The WE54 community to gain unlimited access to contribute towards ongoing projects and campaigns by ideating or acting on them
Ideate by contributing a creative and innovative idea based on a current WE54 project and watch as it becomes action in collaboration with other young leaders from across the continent
Act on ideas that go live and support other young African innovative ideas as well as your own when selected to be acted upon.
For more information, visit we54 Young African Leader.