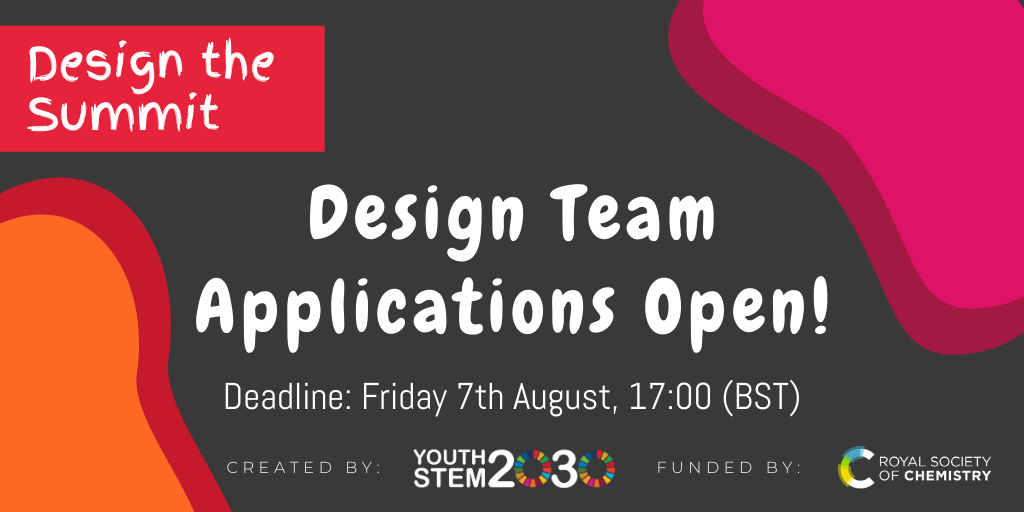 Apply to join the Design Team for the Youth STEM Summit 2020
Deadline: August 7, 2020
Do you want to gain new skills, meet new people and use your free time to do something that will make the world a better place? Apply to join the Design Team for the Youth STEM Summit 2020.
This virtual event will bring together youth globally for a series of talks, panels and workshops, and you can be part of it. This is a time sensitive project, so they are looking for young people who can commit approximately 4 hours per week to the Summit Design Team, from mid-August to mid-October 2020.
They are looking for a diverse team of 8 young people (age 13-24), who each have different skills and strengths. Whether you're good at planning and organising, can use social media like a pro, want a new opportunity to use your video editing skills, care about creating an inclusive and accessible event, or just want to share your ideas as part of a team, they would love to receive your application.
Benefits
All of the Youth STEM Summit Design Team will:
Receive a personalised reference from our Founder & CEO
Gain experience of planning an event, and develop skills such as: teamwork, organisation, event management, and effective communication.
Be able to use their involvement as volunteering hours, or to count towards external awards (e.g. Duke of Edinburgh)
Get to be part of creating an awesome event!
Eligibility
All young people aged 13-24 can apply to join the Youth STEM Summit Design Team;
They are looking for young people with a range of skills to join the team, so no matter what your interests are, they would like to hear from you.
No previous experience of designing events is needed.
Application
In the application, you will be asked to provide some information about:
Yourself
The role you are interested in
Your education/training
The details of at least one person (up to 2 people) who can provide a reference.
You will also be asked to answer 3 questions, as follows:
About You: Tell them about your skills, knowledge and experience. They don't just want to know what you've done. They want to know how you did it and how that shows to them that you can do this role. Answers should be a maximum of 1500 characters.
Why Us?: Tell them what has motivated you to apply for this role at Youth STEM Matters. Answers should be a maximum of 1000 characters.
Why You?: This is your chance to tell the organizers what you can bring to the role – tell them about you as a person and how that will make you suited to the role you have applied for. Answers should be a maximum of 1000 characters.
NB: There are no minimum requirements for response lengths for these questions, but a well thought through application will likely score higher.

This section can all be completed in a range of formats. You can type straight into the application form, or, if you'd prefer, you can record your answers by video, create a poster or write a song/poem (or something else!) to answer the questions. If answering in an alternative format, please indicate so in the form and send your responses to [email protected] before the deadline.
For more information, visit Youth STEM Summit.