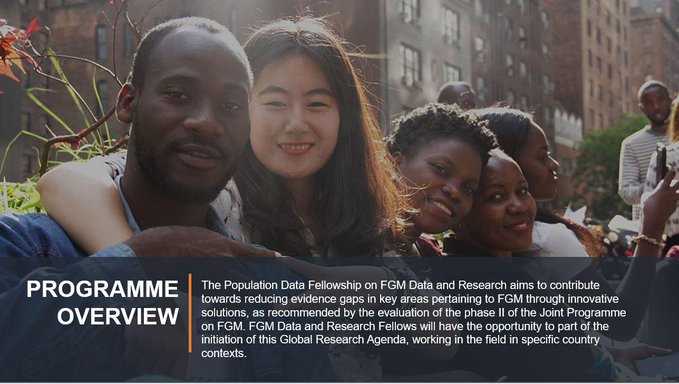 UNV/UNFPA Population Data Fellows Programme 2020/2021 for FGM Data and Research
Deadline: August 14, 2020
Are you an early-career professional, with at least two years of professional experience related to demography, data science, applied statistics or mixed methods research? Are you self-motivated and can thrive in an international, multidisciplinary environment? Apply for the UNV/UNFPA Population Data Fellows Programme 2020/2021.
UNFPA will host a cohort of FGM Data and Research Fellows in countries affected by female genital mutilation around the world through 2020 and 2021, to support the UNFPA-UNICEF Joint Programme to Eliminate Female Genital Mutilation on the implementation of UNFPA's Global Agenda for Research on FGM.
UNFPA's Global Agenda for Research on FGM aims to contribute towards reducing evidence gaps in key areas pertaining to FGM through innovative solutions, as recommended by the evaluation of the phase II of the Joint Programme on FGM. FGM Data and Research Fellows will have the opportunity to part of the intiation of this Global Research Agenda, working in the field in specific country contexts.
Programme Details
The FGM Data Fellows Programme will be coordinated by the Chiefs of the Gender & Human Rights (GHRB) and Population Data (PDB) Branches which will provide leadership and overall guidance.
Technical supervision and monitoring will be under the responsibility of FGM focal points at country/regional level and/or under the Technical Specialist at PDB and the Monitoring & Evaluation Specialist at HQ/FGM coordination level.
Duties and Responsibilities
The Fellow will be assigned to the following tasks:
Learn and apply statistical techniques to analyze data collected through complex survey designs, such as DHS and MICS;
Feed UNFPA's global databases with indicators on FGM at national and regional level;
Contribute to studies and research using a combination of survey and the Joint Programme data to provide new knowledge and evidence on FGM;
Visualize analytical results, through maps, figures, and charts, and tables supporting annual reports, among others;
Contribute to the development of informational brochures and material to support evidence-based communication and advocacy for the UNFPA-UNICEF Joint Programme to Eliminate FGM at national and regional level;
Respond to data requests by national and regional entities, the Coordinator and Monitoring and Evaluation Focal Point of the Joint Programme to Eliminate FGM, as well as Headquarters;
Contribute to GBV knowledge, specifically the KnowVAW data;
Perform any other related tasks as required or assigned by the supervisor.
Benefits
UNFPA is initiating the research initiative both to further innovative analytical solutions for the advancement of FGM programming and knowledge generation.
FGM Data and Research Fellows will be able to be part of a dynamic team, and will have the opportunity to shape certain parts of the research initiative and contribute to expansion of evidence on FGM.
In addition, they will be able to advance their technical skills by gaining experience in processing data from complex survey designs and application of appropriate statistical methods, applying demographic, and statistical and monitoring and evaluation (M&E) methods.
Eligibility
Applicants should have a university undergraduate degree or equivalent in the quantitative and/or qualitative social sciences, such as demography, public health epidemiology, statistics, sociology, economics or related discipline (such as computer science), Master's degree preferred.
Minimum age: 22 years old. Applicants must be nationals of or legal residents in the country of assignment.
Demonstrated interest and/or experience in applied statistics, public health, epidemiology, or demography;
Working knowledge of relevant statistical packages (particular in R, or related statistical tools/packages such as SAS, Stata or SPSS) and willingness to learn (or existing familiarity with) GitHub or version control systems;
Knowledge on gender related studies, especially on harmful practice including female genital mutilation is an asset;
Demonstrated experience in the use of GIS software (such as ArcGIS or QGIS) is an asset;
Familiarity and experience in carrying out descriptive statistical analysis;
Familiarity with qualitative data collection and analysis;
Computer skills (i.e. Word, Excel, PowerPoint, social media, and others);
Motivated to contribute towards peace and development and to serve others;
Good interpersonal, networking and communication skills;
Willingness to contribute and work as part of a team;
Flexible and open to learning and new experiences;
Respect for diversity and adaptability to other cultures, environments and living conditions;
Previous experience as a volunteer and/or experience of another culture, (i.e. studies, volunteer work, internship) would be highly regarded;
Open to work remotely and willing to travel in other countries.
Competencies Values
Adaptability and Flexibility
Commitment and Motivation
Commitment to Continuous Learning
Communication
Ethics and Values
Integrity
Planning and Organizing
Professionalism
Respect for Diversity
Working in Teams
Application
This cohort will consist of five national UN Volunteer Specialists from Burkina Faso, Egypt, Ethiopia, Nigeria and Senegal and two international UN Volunteer Experts working from Dakar, Senegal, and Addis Ababa, Ethiopia.
Register your profile here.
Important: After creating your account, complete all sections of your profile and submit it.
Then go to 'My Page' here and click on the 'Special Calls' hyperlink
Lastly, select the special call to which you would like to apply.
For more information, visit UN Volunteers.