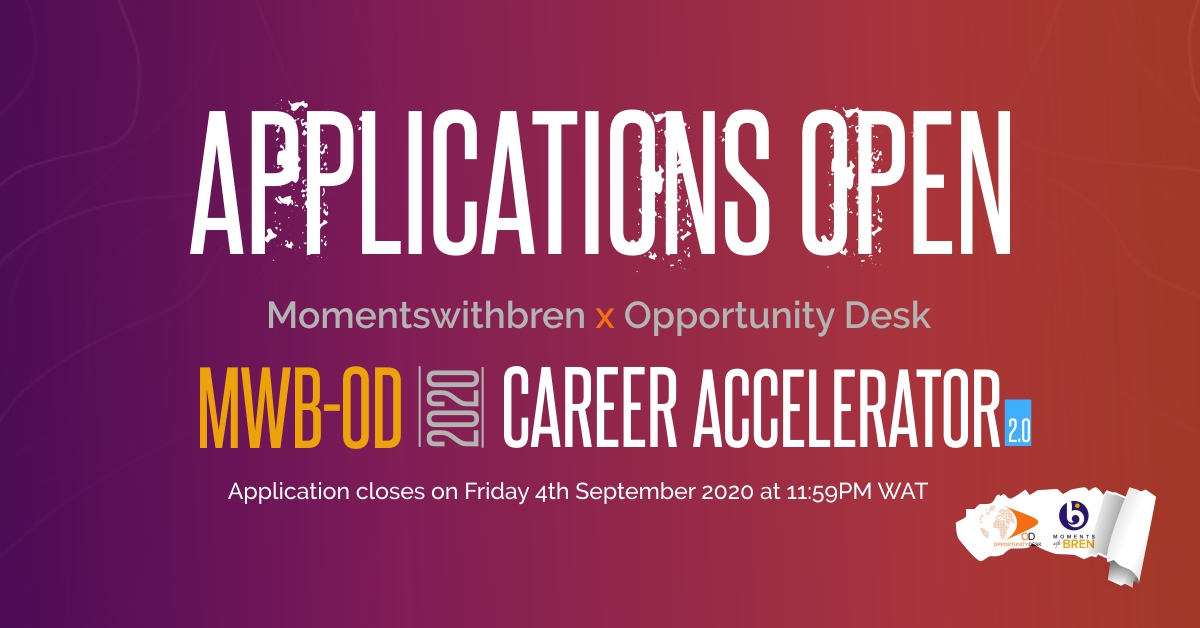 Momentswithbren-Opportunity Desk (MWBOD) Career Accelerator: August 2020 applications are open
Deadline: September 4, 2020
Momentswithbren and Opportunity Desk are pleased to announce the August 2020 edition of the MWB-OD Career Accelerator. The MWB-OD Career Accelerator is an immersive professional development and career guidance program to prepare and position high-impact youth for the global workplace. MWB-OD Career Accelerator is an opportunity for you to build skills, access tools, and achieve your goals for a successful academic and career life.
Are you seeking innovative and effective ways to learn, thrive and succeed in your personal and professional life? Then this program is for you.
MWB-OD provides tools, resources and processes for students and professionals to identify and communicate academic and career interests, and transferable skills for personal and professional development. Participants will explore their interests and skills, translate their current experiences into diverse careers, and initiate a strategic action plan to develop professional connections. Participants will work out their own ideas in conversation with other cohorts. The program will be especially useful for students and young professionals who are early in their exploration of careers.
Designed exclusively for post-secondary students, graduates and young professionals, the MWB-OD Career Accelerator Program features unique workshops, case studies, mentoring, simulation exercises, group discussions and skills-based training. The Career Accelerator provides an opportunity to acquire deeper knowledge to expand their skills and career potential.
Program Components and Benefits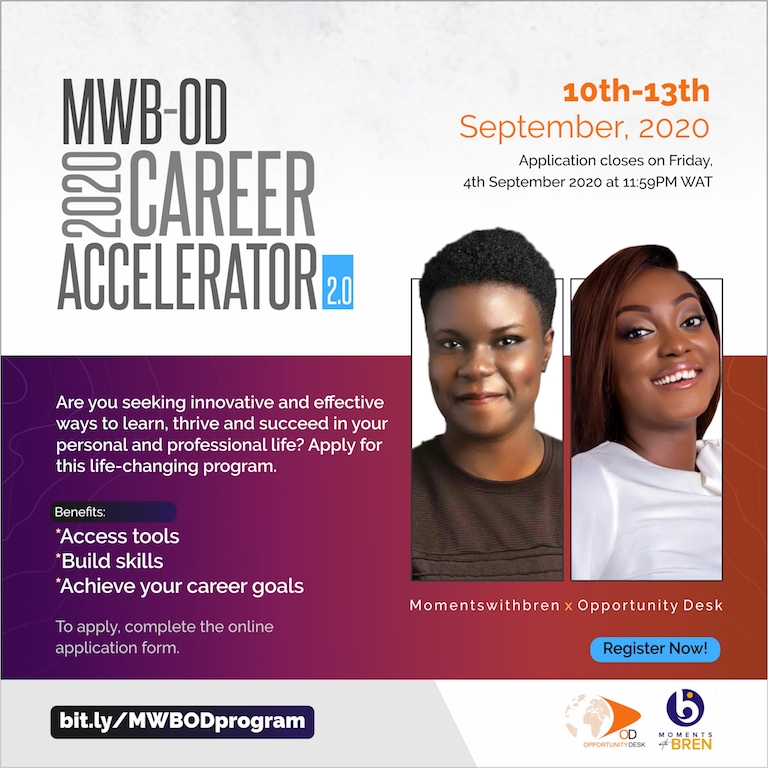 The MW-BOD Career Accelerator includes:
Virtual Workshops: 4 days of unique workshops, real-world experiences and cross-cultural group work. You will have the opportunity to improve your skills in leadership, collaboration, complex problem solving, design thinking, communication, creativity and innovation and turn them into actions and impact.
Coaching & Mentorship from industry experts. Our mentoring program is designed to help prepare you for a successful career.
Exclusive Virtual Internship and Remote Work Opportunities: Upon participation in the Career Accelerator, you will have the opportunity to receive virtual internship, volunteering and job search guidance. You will have access to apply for opportunities at leading global corporations and nonprofit organizations, connected to your specified professional goals. As you work closely with our Program Facilitators, you will create a career action plan to obtain the role that is best for you.
Networking: Participants will exchange with professionals from across the world and upon completion of the program, join our global network of career professionals.
Certificate: A certificate of participation is awarded to participants who successfully complete the training requirements.
Eligibility
This program is ideal for post-secondary students, recent graduates and young professionals, who are interested in exploring career pathways that meet the ever-changing future of work and industry 4.0.
Applicants should meet the following criteria:
Be based anywhere in the world
Be at least 18 years to participate
Be at the beginning of your career or in Higher or Further Education.
Have access to the internet
Be willing to commit fully to the five online training and participate in all activities
Application
Complete the online application form.
Accepted applicants will be contacted to proceed to make payment and officially register to join the program.
Applications close on Monday, September 4, 2020 at 11:59pm WAT
Cost
A tuition fee of $100 USD is charged for the 4-day workshop. The fee covers tuition, course material and access to the full benefits of the program.
For more information, visit MWB-OD Career Accelerator.