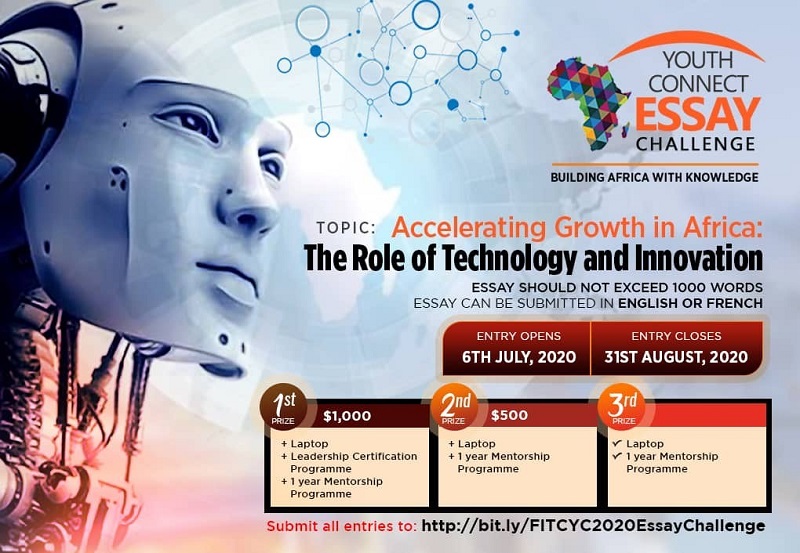 FITC Youth Connect Essay Challenge 2020 for Young Africans
Deadline: August 31, 2020
Applications are open for the FITC Youth Connect Essay Challenge 2020. The Youth Connect Essay Challenge is organized to harness the creativity and innovation mindset of the African youth in promoting growth and development in Africa.
The objective is to develop in undergraduate students the habit of contributing to national and global issues, as well as providing policymakers with an accessible perspective. It aims to promote excellence and knowledge amongst young minds, putting them in the shoes of game changers and problem solvers, in the African Landscape and the world at large.
The theme for the 2020 competition is "Accelerating Growth and Development in Africa: The Role of Technology and Innovation."
Prizes
Winner: $1,000 + Laptop + Leadership Certification Programme + 1-year Mentorship Programme.
1st runner up: $500 + Laptop + 1-year Mentorship Programme.
2nd runner up: Laptop + 1-year Mentorship Programme.
Eligibility
Open to undergraduates from all tertiary institutions in Africa
Essay can be in English or French and must not exceed 1000 words.
Entrants are expected to show originality, creativity, clarity and focus on the topic
Essays must be original and unpublished. Plagiarized entries will be disqualified.
Essays must be written by one person. Co- written essays will not be accepted.
One entry per person.
Entries will be disqualified if they fail to meet these requirements.
Essay Format
Essay can be written in English or French language.
Essay must include a title.
Essay must reflect the participants own work and original thinking and may not infringe on the rights of any other party.
Any quotations or copyrighted material must be identified and referenced.
The essay should not exceed 1000 words.
Evaluation Criteria
Essays will be evaluated on:
Theme: How essay creatively relates to the competition theme.
Focus and Details: Whether essays are well focused and supported.
Organization and Ideas: How original ideas are, how they are presented and whether they capture the readers' attention.
Use of Conventions: Whether spelling, grammar and punctuation interrupt reading and detract from the meaning of the essay.
Voice: Whether the writer's unique perspective is shown.
Application
All entries should be submitted online. Fill your details on the registration page and follow the required steps. Entries must be received by August 31, 2020 (23:59 WAT).
For more information, visit FITC Essay Challenge.