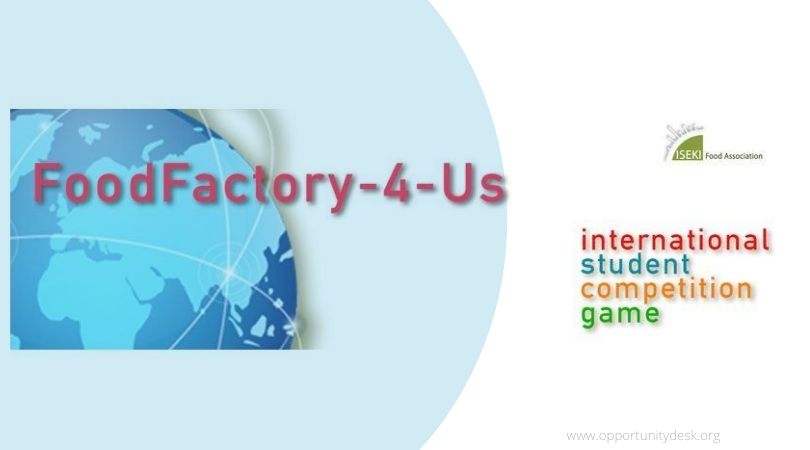 Food Factory-4-Us Sustainable Supply Chain International Student Competition 2020
Deadline: September 30, 2020
Are you a Master's student enrolled in a food study programme eager to find solutions for valorizing food biodiversity in your country? Apply for the Food Factory-4-Us Sustainable Supply Chain International Student Competition 2020.
Students will participate in an innovative, learner-centric environment based on active, action-oriented learning to develop a project including a specific objective/target, the design and development of a solution exploitable at the industry level and with the main aim of contributing to innovation in sustainable food systems as well as quality and safety of foods. The 2020 Food Factory-4-Us Sustainable Supply Chain International Student Competition will aim to answer the following question: How can food biodiversity in your country be valorized?
The competition aims to improve students' practical ability in identifying and solving real problems in sustainable food production/processing and uses action-oriented and participatory learning to train students to work together on skills that are essential for today's job market. These competitions are one of the case studies of the NextFOOD project which researches innovative education for sustainable agriculture. By participating in this competition you are also participating in a research project on education.
Benefits
The Winning Team of the FoodFactory-4-Us Edition 2020 on Valorizing Food Biodiversity will receive:
An award of 300 Euro for the best project, sponsored by the ISEKI-Food Association.
A guaranteed oral presentation in the session on Biodiversity and free registration to the ISEKI-Food 2021 conference, scheduled for June 2021 in Larnaca (CY), for 3 members of the winning team
Each member of the winning team will receive the corresponding certificates as winners
Additionally, members of the winning team will be invited to the NextFOOD Project Meeting, scheduled for spring 2021 in Bari (IT), where they will give their winning presentation to project partners and other invited stakeholders and thus contribute to the overall value of the NextFOOD project. Economy airfare within Europe, 2 nights accommodation and project dinner will be paid.
And finally, each team member of the competition will receive a Certificate of Participation in the FoodFactory-4-Us Sustainable Supply Chain Competition.
Eligibility
Student teams from around the world are invited to participate in the FoodFactory-4-Us Valorizing Biodiversity in their country! 
The following application criteria apply:
Teams of students apply on a voluntary basis and free of charge.
Teams must be made of 3-to-5 (min-to-max) Master's or Master equivalent students registered in any food-related programme anywhere in the world.
Teams must have 1 Faculty Mentor. All team members and the faculty mentor should be indicated on the registration form.
Application
Do you have a great idea for valorizing food biodiversity in your country? Form a  team of 3-5 Master's students, get a faculty mentor, read the instructions on Project Topic and Evaluation, go to Application form and briefly present your project proposal (1,000 characters) and your team members by September 30, 2020!
Click here to complete the application form
For more information, visit Food Factory-4-Us.