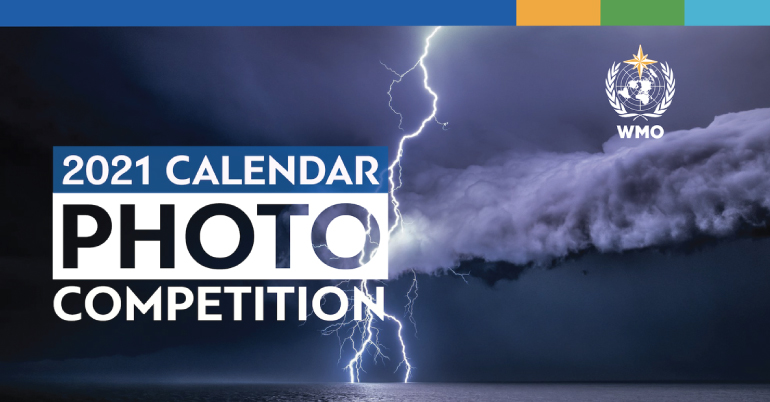 World Meteorological Organization (WMO) Calendar Competition 2021
Deadline: September 15, 2020
Entries are invited for the World Meteorological Organization (WMO) Calendar Competition 2021. The World Meteorological Organization is looking for high-quality and artistic photographs, and especially those which illustrate the theme of World Meteorological Day 2021, "The Ocean, our climate and weather."
The Ocean covers 70% of the Earth's surface and provides resources on which the world depends. It is a major driver of the world's weather and climate and stores more than 90% of excess heat generated by human activities. It provides endless fascination and inspiration for photographs which demonstrate its amazing beauty and  power and fragility. So the World Meteorological Organization hopes you will send them lots of images of the Ocean itself, as well as its effect on our climate and weather and water cycle. The opportunities are endless. As a U.N. agency, they are keen to encourage a good geographical balance which represents all regions.
Prizes
Winning entries will feature in the WMO 2021 online calendar. They will be showcased on the WMO website and social media platforms and feature prominently in their World Meteorological Day 2021 celebrations.
They will also promote them among other U.N. agencies and showcase them during the UN Decade of Ocean Science for Sustainable Development to be held from 2021-2030.
Eligibility
Open to all individuals and groups, regardless of age or location.
Entrants under 18 years of age may participate with the permission of their parents or legal guardians. If the photo of an entrant under 18 years of age is chosen, and written parental or guardian permission cannot be provided, the WMO has the right to reject the entry.
Entrants are required to obtain permission from all persons appearing on photo. If an entrant is chosen winner, and such written permission cannot be provided, the WMO has the right to reject the entry.
Submission Guidelines
All photos must be a minimum size of 4000 x 3000 pixels.
All photos must be submitted in JPEG or TIFF format (with little compression to preserve image quality.
All photos must be in landscape (horizontal) format.
Black and white photographs as well as coloured photographs will be accepted.
All photos must be clearly captioned, including a title, a location and the date of the photograph.
Judging Criteria
Entries will be narrowed down to a shortlist by a WMO panel of experts in meteorology and oceanography as well as experienced professional photographers. Entries will be judged on:
Technical quality, clarity, and composition
Visual impact
Novelty and flair for the unexpected
Application
Take a striking photo which is related to the Ocean, the weather and climate and meets the submission guidelines. Photographers may submit multiple entries, but only one photo can be included in the final calendar. If you share your photos on your own social media profiles, use the #WMOphoto hashtag.
Click here to submit your entry
For more information, visit World Meteorological Organization.