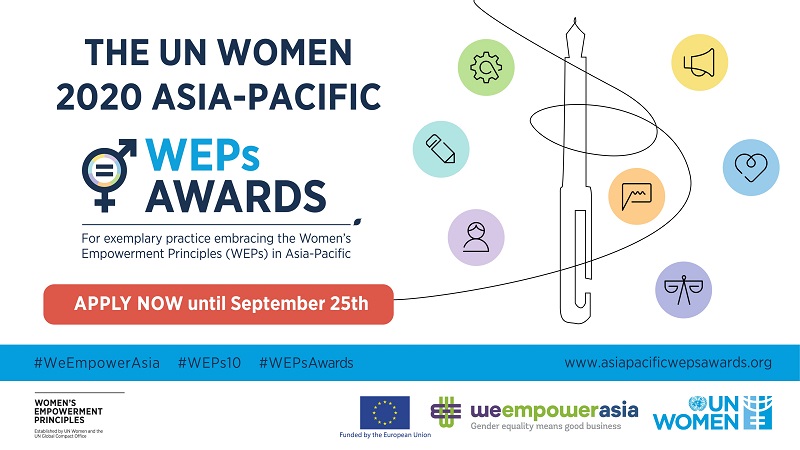 UN Women Asia-Pacific WEPs Awards 2020
Deadline: September 25, 2020
Applications are open for the UN Women Asia-Pacific WEPs Awards 2020. The Awards aim to encourage, value and recognize the efforts of individuals and businesses that promote gender-inclusive business cultures and the achievement of gender equality in the Asia-Pacific, guided by the Women's Empowerment Principles (WEPs).
Launched worldwide in 2010 by UN Women and UN Global Compact, the WEPs is a holistic set of 7 principles that support business to advance gender equality in the workplace, marketplace and community.
2020 marks the 10th anniversary of the Women's Empowerment Principles. While there is progress to celebrate, the global outbreak of the COVID-19 pandemic has laid bare and exacerbated existing gender inequalities in the region. It is time to act now to build back better. Business has an instrumental role and a unique opportunity to play, and they have also seen that the WEPs can be a powerful tool for accelerated COVID-19 recovery. That's why they want to award companies who are leading the path and inspiring others to build stronger, more resilient and inclusive businesses.
Categories
The UN Women 2020 Asia-Pacific WEPs Awards will recognize initiatives in the following categories:
Leadership Commitment
Youth Leadership
Gender-inclusive Workplace
Gender-responsive Marketplace
Community and Industry Engagement and
COVID-19 Action
Benefits
Awardees of the UN Women 2020 Asia-Pacific WEPs Awards will receive:
Free access to UN Women mentoring and training programmes that will help you assess your company's progress on gender equality and implement a Gender Action Plan.
Worldwide recognition and visibility through joint speaking and media opportunities in UN Women's and WEPs Communication Channels, Events and Media.
A company case study featured in a special issue of the WeEmpower Asia newsletter.
Eligibility
All businesses, companies and enterprises (private, public, state-owned, cooperatives and social enterprises), including subsidiaries of multinationals and/or their branches, industry associations and chambers of commerce are eligible to apply.
For the Leadership and Youth Leadership awards, they encourage all individuals to apply and will consider of all nationalities as long as the nominated individual has established residency in the country of nomination and/or is a citizen of one of the Asia-Pacific countries.
Application
All applications must be submitted online. The standard application is in English, but for selected countries there is the opportunity to apply in the local language.
Applicants need to submit one application and may apply for up to two categories. The application consists of three parts:
Part 1: Applicant Information 
Part 2: General Questions (30% of total score): multiple choice questions to assess the applicant's policies and practices aligned to the WEPs principles
Part 3: Category Questions (70% of total score): open-ended questions for the applicant to detail the specific initiative for which they wish to be nominated.
For more information, visit UN Women.