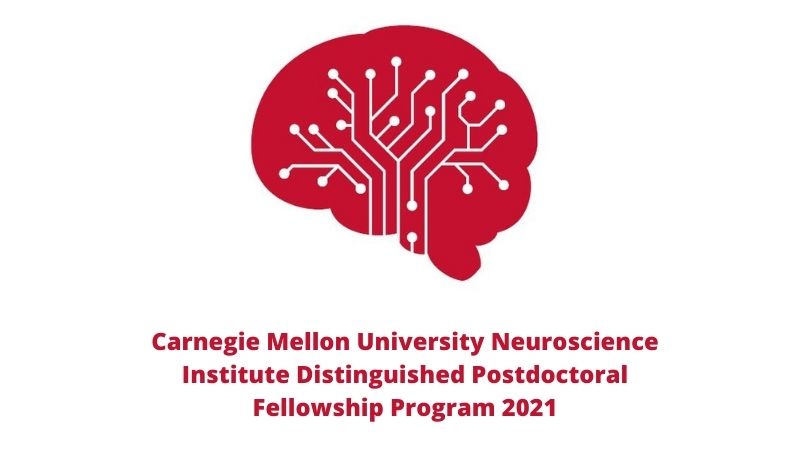 Carnegie Mellon University Neuroscience Institute Distinguished Postdoctoral Fellowship Program 2021 (stipend of $55,000)
Deadline: March 30, 2021
Applications are invited for the Carnegie Mellon University Neuroscience Institute Distinguished Postdoctoral Fellowship Program 2021. The Institute seeks diverse, creative, and collaborative early-career applicants for this Fellowship Program. Up to two fellowships (renewable annually, typically for two years) will be awarded per year.
The Neuroscience Institute of Carnegie Mellon brings together researchers from across the University to conduct multi-disciplinary work to advance the state of brain science. The Neuroscience Institute comprises faculty from five of CMU's seven schools and colleges, harnessing the university's core strengths in cognitive science, computation, data science, biology, and engineering.
Fellowship
Fellows will receive an annual stipend of $55,000, full benefits, and a professional development fund of up to $5,000 per year.
Eligibility
Open to postdoctoral researchers;
Demonstrate a commitment to promoting diverse ideas, perspectives, and voices in the research community;
Demonstrate a creative, interdisciplinary approach to solving modern problems in neuroscience;
Possess the skills to develop new methods to study brain, behavior, and their relationship;
Show the promise of seeding or promoting sustainable, collaborative links between NI faculty research programs, and
Demonstrate the potential for proposed research to lead to competitive external funding.
Application
To apply, submit a single PDF file containing (in order):
A cover letter describing your career goals, how the proposed work would prepare you for this path, and how past experiences qualify you for the project (1 page)
Your proposed research plan (2 pages)
A diversity, equity, and inclusion statement detailing your commitment to and potential to contribute to a welcoming and open research community (1 page)
A current CV (2 pages)
Letters of support from two current NI faculty who will co-mentor your proposed research, which describe how your background qualifies you for the proposed work, the co-sponsor's role on the project, and how the proposed work relates to, enables, and hopefully expands the co-sponsor's research program (1 page, each).
Submit your applications by March 30, 2021 to [email protected] Fellows will be notified no later than April 30, 2021.
For more information, visit Carnegie Mellon University.