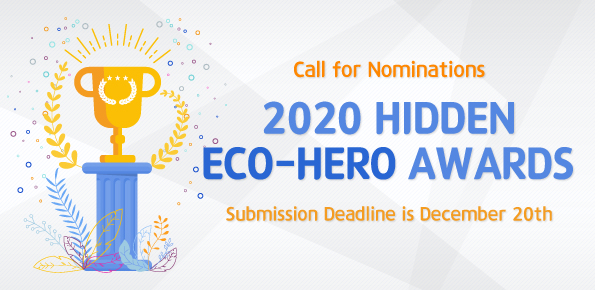 Call for Nominations: Tunza Eco-generation Hidden Eco-Hero Awards 2020
Deadline: December 20, 2020
Nominations are invited for the Hidden Eco-Hero Awards 2020. Unlike other environmental awards and programs appreciating well-known environmental campaign gurus, Tunza Eco-generation would like to find and award the Hidden Eco-heroes and heroines around you and through your social networks.
Hidden Eco-hero can be your classmate, neighbor, SNS friend and anyone who is really passionate about protecting the environment and constantly making substantial efforts towards mother Earth. Please find and recommend the Hidden Eco-heroes who haven't got spotlighted yet.
Benefits
Three Hidden Eco-heroes shall be given the 2020 Hidden Eco-hero Awards Certificate and one Samsung Galaxy Buds Live.
Three Recommenders of the Hero shall be given one Samsung Galaxy Fit 2.
The Hidden Eco-heroes will have the honor of being featured on Social Media Channels of Eco-generation (Facebook, Twitter and Newsletter).
Eligibility
Open to individuals who are passionate about protecting the environment and constantly making substantial efforts towards mother Earth.
Although there will be no age limit for both the Hidden Eco-hero and Nominator, only one Hidden Eco-hero nominee will be chosen for one country.
Multiple entries of one nominator up to two (2) different persons are allowed.
The nominee must have not been covered by any media including TV and newspaper.
All contents in the Nomination form must be true and correct, otherwise nomination will be canceled.
Application
Step 1: Download the Nomination form here.
Step 2: Fill out the form completely and thoroughly. You can discuss the details with your Hidden Eco-hero candidates to fill out the form.
Step 3: Submit the completed form to Tunza Eco-generation website before December 20, 2020. You can submit the Nomination form here.
Step 4: Participate the vote on Facebook and Tunza Eco-generation website.
Step 5. (Three winners only): Both Nominator and Eco-hero must take a picture together awarding the Certificate and the Souvenir. This is to confirm that the certificate and the souvenir are received by the right persons. They would like to ask the recommender to have a small interview about the award-winning and their works. Taken pictures and interview should be sent to [email protected] within TWO weeks after receiving the prizes and certificates.
For more information, visit Hidden Eco-Hero Awards.