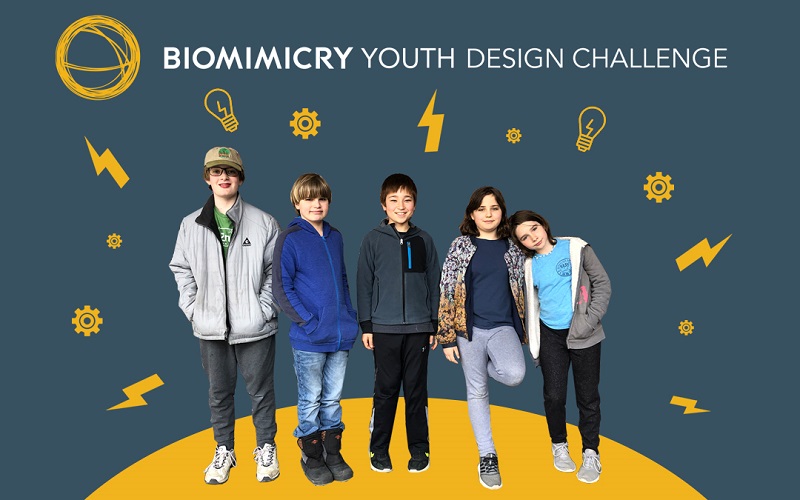 Biomimicry Institute Youth Design Challenge 2020/2021 for Middle and High School Students in the U.S.
Deadline: March 1, 2021
Applications are open for the Biomimicry Youth Design Challenge 2021. The Biomimicry Institute's Youth Design Challenge (YDC) is a project-based learning experience that asks middle and high school teams to design bio-inspired ideas that can provide solutions to the climate crisis.
It provides a framework for formal and informal educators to introduce biomimicry as an engineering design strategy, to integrate relevant purposeful STEM experiences, and to provide engaging instruction aligned to the Next Generation Science Standards (NGSS).
Design Brief: Climate Change Adaptation and Mitigation
Your Challenge: Explore the wonders of the natural world and create a nature-inspired innovation that addresses climate change by:
Helping communities adapt to climate change impacts and/or
Reversing or slowing the advance of climate change itself.
Awards
The following awards will be given in both the middle school and high school categories to the teams that best exemplify these qualities.
Problem Definition Award: For systems thinking, thoroughness, and creativity in researching, identifying, and defining a problem to solve.
Naturalist Award: For comprehensive research into biological models, thorough explanations of their natural history and strategies, and selection of appropriate models to inform the design.
Design Cycle Award: For perseverance in the iterative design cycle including exploration of multiple design ideas, using creative techniques to test potential solutions, and/or getting feedback from diverse experts and interested community members to inform design revisions.
Changemaker Award: For an innovative design proposal that could potentially move forward in future research and development and/or would have a significant impact if implemented.
Storyteller Award: For an engaging presentation of the required application materials that creatively and accurately captures the team's innovation process and learning journey.
Winning teams will receive an award certificate and have their work publicly recognized online and/or in the media. In addition, a $500 cash gift will be made to an environmental charity in honor of the team. Teams may select from a list of approved US-based charities provided by the Institute, or designate another qualifying organization of their choice to receive the funds.
Eligibility
The Challenge is open to middle and high school students (US equivalent grades 6th-12th)
Students must participate as part of a team. Individual entries are not accepted. A team consists of 2 – 8 student team members with 1 or 2 adult coaches who will communicate with the Institute on behalf of the team. No student may be on more than one Team, however Coaches may advise multiple Teams.
Teams and coaches must be affiliated with a public school, private school, registered homeschool, or a legally recognized educational organization (such as a museum, nature center, after school program, youth agency, etc.). The Institute has sole authority to determine whether an organization constitutes a legally recognized organization. If you are not sure if your organization will qualify, please contact [email protected]
Coaches may be educators, volunteers, or parents/guardians working with the team's affiliated organization. Coaches must be age 21 or older.
Teams may be composed of students from assorted grades, however if any team member is in grade 9th-12th (high school) that team must compete in the high school category.
Application
Entries are submitted online and include the following elements:
Written project overview
Project image
Two-minute video pitch
Project portfolio
Team photo
Click here to submit application
For more information, see FAQs and visit Biomimicry Institute.