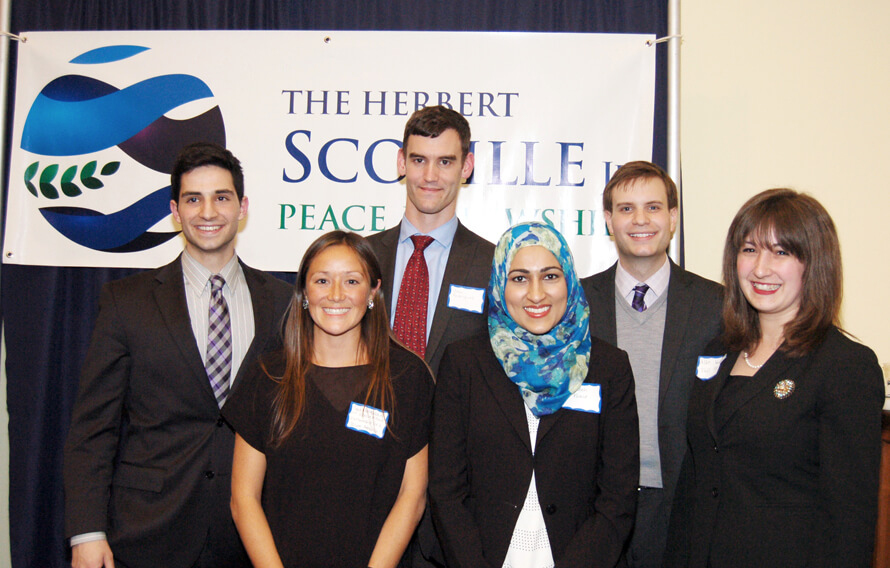 Herbert Scoville Jr. Peace Fellowship Program 2021 (Funding available)
Deadline: January 4, 2021
Applications for the Herbert Scoville Jr. Peace Fellowship Program 2021 are now open. The purpose of the fellowship is to provide an opportunity for college graduates to gain practical knowledge and experience by contributing to the efforts of nonprofit, public-interest organizations working on peace and security issues.
Scoville Fellows will choose to work with one of the twenty-six organizations participating in the program. With the assistance of alumni, board, and staff, fellows will select a placement which best matches their interests and the needs of the host organization. Participating organizations provide office space and support, supervision and guidance for fellows' work. With the exception of Congressional lobbying, fellows may undertake a variety of activities, including research, writing, and organizing that support the goals of their host organization.
Benefits
Fellows receive a salary of $3,400 per month and basic health insurance compensation, plus travel expenses to Washington, DC.
The program also provides $1,000 per fellow for professional development to attend relevant conferences or meetings that could cover travel, accommodations, and registration fees, or to take a language or policy course.
The program arranges meetings for the fellows with policy experts and social networking events with alumni.
Fellows also receive mentoring from a board member and a former fellow.
Some lenders may permit Scoville Fellows to defer college loan payments during their fellowship. Check with your individual lenders.
Eligibility
Open to all U.S. citizens, and non-U.S. citizens living in the U.S. eligible for employment.
Candidates are required to have completed a baccalaureate degree by the time the fellowship commences.
Preference is given to United States citizens, although a fellowship to a foreign national residing in the U.S. is awarded periodically. Non-U.S. citizens living outside the United States are not eligible to apply. The Scoville Fellowship is not intended for students or scholars interested in pursuing independent research in Washington, DC.
Preference will be given to individuals who have not had substantial prior public-interest or government experience in the Washington, DC area.
Application
All applicants must provide the following information:
Name
Telephone Number
Email Address
Semester for which you are applying
Name, address, email address, and telephone number for each of your two references (whether these letters are included with your materials or will be emailed separately).
List 5-6 of their participating organizations that you would like to work with if chosen as a Scoville Fellow. Please check this list of organizations to see which are eligible to host a fellow during the upcoming term.
The applicant may also submit the reference letters and transcripts, or they may be submitted directly by the letter writers and registrar through the form by applicants who list the email of the letter writers and registrar. Reference letters and transcripts that are not submitted directly to the online application form may be emailed to [email protected]
For more information, visit Herbert Scoville Jr. Peace Fellowship.