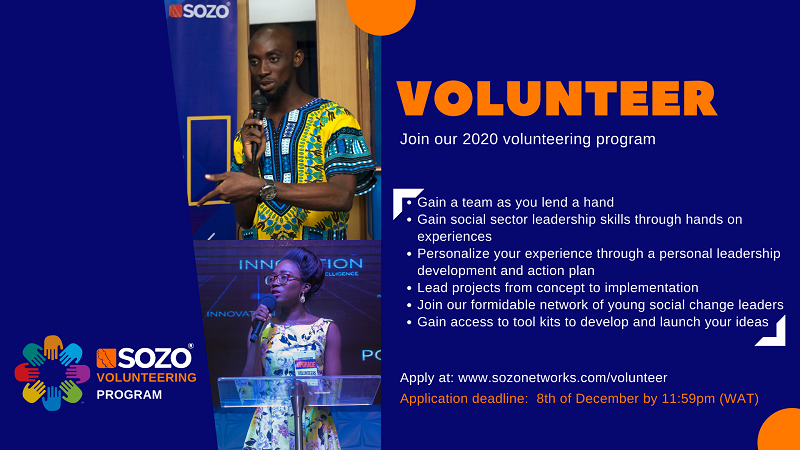 Sozo Networks' Volunteering Program 2020 for Young Nigerians
Deadline: December 8, 2020
Applications are open for the Sozo Networks' Volunteering Program 2020. The Sozo Networks' volunteering program provides a platform for youths between the ages of 18 and 35 to engage in community development projects.
This 12 month program provides volunteers with hands-on training on non-profit management, project management, leadership, and communications. Over 250 youths have graduated from this program and 70% have gained meaningful employments in diverse sectors, while others have started their own initiatives.
As a volunteer, you will be expected to contribute to their work significantly. You will develop a leadership development plan, lead a small unit or project, participate in project planning and implementation, mentor at least two teenagers, participate in at least 3 professional development workshops, read 4 books, raise funds and develop an initiative or career plan for your self.
Benefits
Gain a team as you lend a hand.
Gain social sector leadership skils through hands on experiences.
Personalize your exprience through a prsonal leadership development and action plan.
Lead projects from concept to implementation.
Join a formidable network of young social change leaders.
Gain access to tool kits to develop and launch your ideas.
Eligibilitty
Open to young Nigerians;
Applicants should be between the ages of 18 and 35.
Application
This application process is designed to help them know more about you and to determine if you will be a good fit for this program. You are expected to supply the information required accurately and sincerely, as integrity is one of their core values.
The application deadline is December 8, 2020 by 11:59pm (WAT).
For more information, visit Sozo Networks.